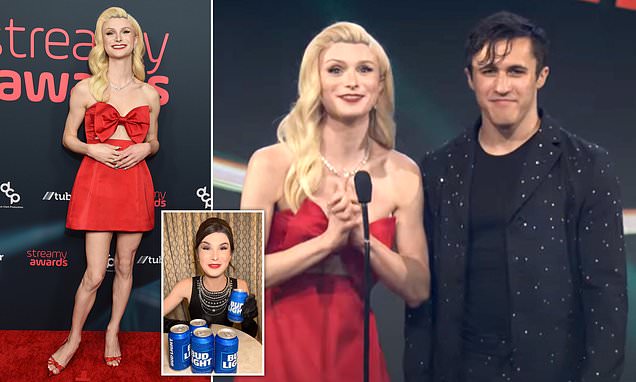 Dylan Mulvaney takes a swipe at her critics while presenting award
August 28, 2023
Dylan Mulvaney calls out the 'extreme amount of transphobia and hate' as she wins Breakout Creator at the 2023 Streamy Awards
Mulvaney, 26 – who was recently embroiled in controversy over a partnership with Bud Light – presented the best comedy prize in a red satin minidress
She gave an acceptance speech pointed at her critics and with a brief reference to the stir she'd caused earlier in the year 
'I love you so much, thank you, thank you, I'm gonna go have a beer and… I love ya!' she said 
Transgender influencer Dylan Mulvaney used her celebratory speech at the 2023 Streamy Awards as a chance to call out transphobia – before pledging to toast her win with a beer. 
Mulvaney, 26, who spent much of the first half of the year embroiled in controversy over her Bud Light partnership – won the gong for Breakthrough Creator at the Sunday night award ceremony which is considered the 'foremost recognition within the creator community.'
The trans influencer – dressed in a red satin minidress and matching sparkly kitten heels – gave an acceptance speech pointed at her critics and with a brief reference to the stir she'd caused earlier in the year.
'My life has been changed for the better but also there's been an extreme amount of transphobia and hate and I know that my community is feeling it and I know that even our allies are feeling it,' she said, clutching her award.
'I look around this room and I just see so many amazing allies that have platforms and I think allyship right now needs to look differently. You need to support trans people publicly and proudly,' she added to applause.
'I love you so much, thank you, thank you, I'm gonna go have a beer and… I love ya!' 
Mulvaney, 26 – who spent much of the first half of the year broiled in a controversy over a partnership with Bud Light – wore a red satin minidress at the Streamies, which are considered the 'foremost recognition within the creator community'
Transgender influencer Dylan Mulvaney called out transphobia and referenced that she was going to celebrate with a beer after being celebrated at the 2023 Streamy Awards on Sunday night 
https://youtube.com/watch?v=3XhQ8ATKPlc%3Frel%3D0
Earlier, she presented the best comedy prize alongside actor and digital creator Chris Olsen, with a pre-planned bit that appeared to be a crack at the haters.
Olsen began: 'The most important thing when it comes to comedy is…' and Mulvaney immediately interrupted: 'Never look at the comments!'
Her co-presenter jibed 'maybe it's timing?' and she responded 'yeah, yeah, timing seems important.' 
The influencer sported a long blond wig, false eyelashes and a crimson lip to match her outfit as she posed on the red carpet, flashing her midriff in her cutout dress.
Mulvaney's comment at the awards may have been a swipe at her critics after her disastrous Bud Light ad cost the company $27billion, triggering corporate layoffs and stripping it of its long-held title of America's favorite beer. 
Mulvaney posted herself drinking Bud Light at the start of April 2023 using the hashtag #budlightpartner. She posted the content to coincide with the NCAA March Madness tournament, before joking she didn't know what sport she was promoting. 
Since the April fiasco, Anheuser-Busch scrambled to cling on to its reputation as an all-American company without distancing itself from the LGBTQ groups it has long supported. 
The brand has neither apologized for the campaign nor has it doubled down on it, with CEO Brendan Whitworth attempting a tightrope of diplomacy in the few interviews he's agreed to since the fallout began. 
Mulvaney worked with Bud Light in April as part of their March Madness campaign and was gifted a can of the light beer with her face on it – which sparked outrage
The can was gifted to Mulvaney to celebrate 365 days of 'being a girl,' the phrase she uses to describe her transition from male to female.
The partnership drew intense backlash from some quarters, with musician Kid Rock posting a video of himself shooting at cases of Bud Light, and country singers John Rich and Travis Tritt dropping ties with the brand. 
In April, fresh on the heels of the brand's partnership with Mulvaney, singer Kid Rock declared on Instagram: 'F**k Bud Light! F**k Anheuser-Busch!' 
He sent his message in an Instagram video that showed him shooting a case of the beers with a semiautomatic rifle.
His fans leaped on it, as did others who were irate over the beer's choice to partner up with a transgender activist like Mulvaney. 
However, earlier in August, Rock was seen swigging from a can of the stuff at a Nashville concert on Thursday four months after leading a voracious boycott against the beer brand. 
It triggered outrage among drinkers nationwide, who accused Bud Light of trying to force progressive beliefs on them and their favorite brand. 
The debate over transgender rights is the current hot-button issue in the United States. 
April: An angry Kid Rock fires bullets into a case of Bud Light in an act of war on Anheuser-Busch 
Gender-critical feminists oppose letting transgender women into some female-only spaces, such as domestic violence shelters.
There is also widespread opposition to trans women competing against biological women in sports, over fears going through male puberty gives them an unfair advantage.
While Mulvaney has largely steered clear of these issues, her tie-up with Bud Light appeared to act as a lightning rod for people concerned about progressive ideologies, and gave them a direct means of hurting a brand that backed them. 
Bud Light has also been dethroned as the top of the beverages by Modelo Especial – another Anheuser-Busch brand – taking more than $27billion in market value. 
Modelo surpassed Bud Light's $297 million – which was a 22.8 percent fall in sales compared to the same time last year. They reported an 11 percent increase in sales for the second quarter of this year.
The company lost a whopping $390 million in US sales from the partnership. 
It is the first time since 2001 that Bud Light has not been in the top spot, dethroning its sister brand Budweiser for the 'King of Beer' title in 2001.
Amongst the ongoing issues, Anheuser-Busch forced two of its top executives to take a 'leave of absence' following the major marketing blunder and immediately pivoted to a more 'patriotic' series of ads.
There were claims that both executives had finally been fired over the fiasco – something which the company deny.
VP of marketing Alissa Heinerscheid, 39, and VP for Mainstream Brands Daniel Blake, 34, both took a voluntary leave of absence following the backlash.
Anheuser Busch blamed the 'volume decline' of Bud Light for the drop in revenue in its second quarter – with figures showing that total US revenue dropped by 10.5 percent in the April-to-June period compared to a year earlier.
Many Americans viewed the partnership with Mulvaney as the final straw in companies inserting politics into consumerism. 
In a new YouGov poll, which asked 1,468 people, the public approval of the beer slumped so much it fell out of the top ten and into 15th place
Anheuser-Busch profits plummeted after the initial scandal. In total, the company is down $40billion 
The brand's ousted marketing chief Alissa Heinerscheid, 39, said she planned to update the 'fratty' and 'out of touch' branding. VP for Mainstream Brands Daniel Blake, 34, also voluntarily took a leave of absence earlier this year following the controversy
Marketing executive Alissa Heinerschneid was largely blamed for the ill-fated social media campaign, that involved Mulvaney receiving a special, one-off can of the beer with her face on it
She eventually filmed an Instagram video complaining about the brand. 
After the Bud Light ad, Target was besieged for its enthusiasm for Pride month, during which stores pushed LGBTQ displays to the front of displays and marketed items like 'tuck friendly swimsuits'. 
Most recently, Mulvaney was invited to audition for the upcoming Broadway revival of Cabaret – in which Eddie Redmayne is expected to be cast in the male lead.
Source: Read Full Article