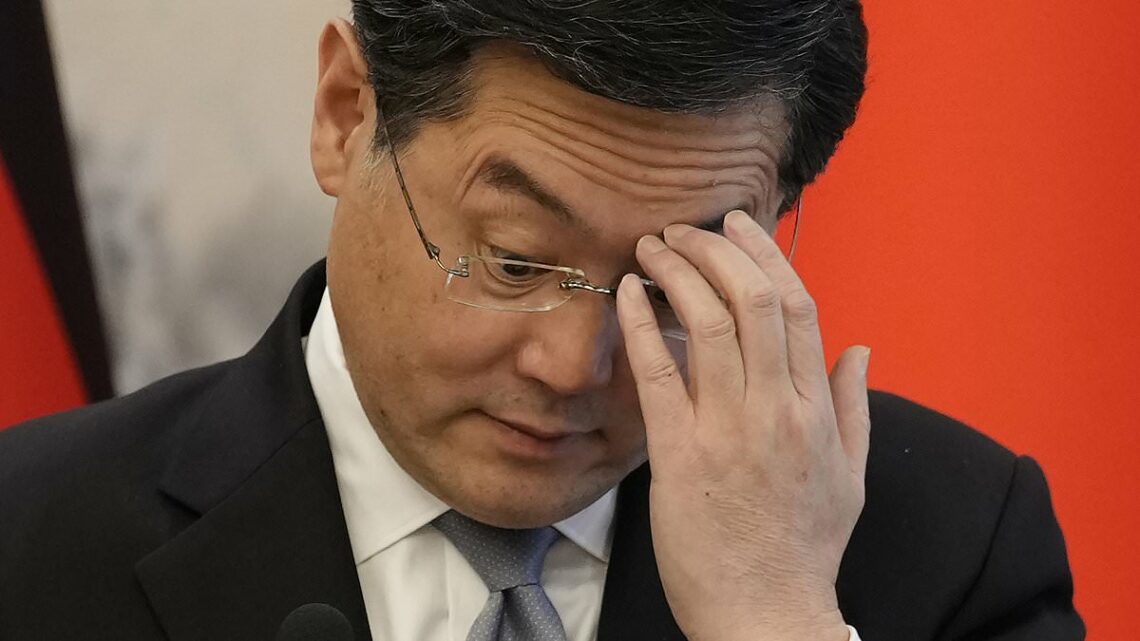 China envoy to US 'fired from post for fathering lovechild in States'
September 19, 2023
Foreign affairs! Chinese envoy to Washington 'was removed from his post for fathering a child while having a fling in the US'
Qin Gang was China's top diplomat until July, when he was abruptly fired
He has not been seen in public for over a month
CCP investigators reportedly told officials he fathered a baby in the US during an extramarital affair 
China's former top envoy to Washington was abruptly ousted from his post as minister for foreign affairs after an internal Communist Party investigation found he had fathered a child during an extramarital affair in the US. 
Qin Gang, 57, disappeared from public view in July and was stripped of his title as foreign minister without explanation. 
But senior party officials were told the former envoy to the United States was removed from his prestigious post as minister of foreign affairs for 'lifestyle reasons', a euphemism for sexual misconduct, after CCP investigators found he had fathered a child with his mistress in the US.
Sources told the Wall Street Journal that the names of the woman and child were not disclosed to party officials when they were briefed. 
It is also not known exactly how long the affair was, when it was said to have taken place, or how old the child is.  
Qin Gang (pictured) reportedly fathered a child with a mistress in the US
He was abruptly sacked in July with no explanation
READ MORE: China is accused of trying to spy on a civil servant at the British embassy in Beijing by hiding a listening device in a teapot
The sources added that the CCP is now looking to see whether the affair or other misconduct by Gang compromised China's national security.
Intelligence officials from across the world were reportedly involved in Gang's downfall, who was removed from his position after just seven months. 
According to Western intelligence officials who spoke to Intelligence Online, Russian spies told the CCP that Gang was at the heart of a spying operation on behalf of the United States. 
On top of this, intelligence officials from Taiwan reportedly told the publication that the CCP was investigating at least two of his mistresses, the one in the US and another based in the UK. 
Gang was seen as a measured and careful diplomat in intelligence circles. 
CCP leader Xi Jinping reportedly handpicked him as China's foreign minister just two years after he was made Beijing's top envoy to the US, an unusually fast promotion. 
Xi Jinping reportedly handpicked Gang to be China's top diplomat 
He was replaced by another career diplomat, Wang Yi (pictured)
READ MORE: Chinese SPIES could be using the southern border to get into the U.S. top Republican warns
Despite this, he was quickly replaced by another career diplomat, Wang Yi. 
Yi, 69, has served in several important posts, including as foreign minister from 2013 to 2022. 
He was also China's envoy to Japan, and headed up the country's Taiwan Affairs Office for several years.  
Gang's removal came as part of a major crackdown on CCP officials suspected of spying. 
Earlier this month, China's defence minister Li Shangfu, whose prime responsibility is military relations with other countries, was taken away for questioning by CCP authorities. 
And in July, both the political and civil service head of China's Rocket Force, which controls the country's strategic missiles, were dismissed without any public reason.
MailOnline has contacted China's Foreign Ministry for comment. 
Source: Read Full Article