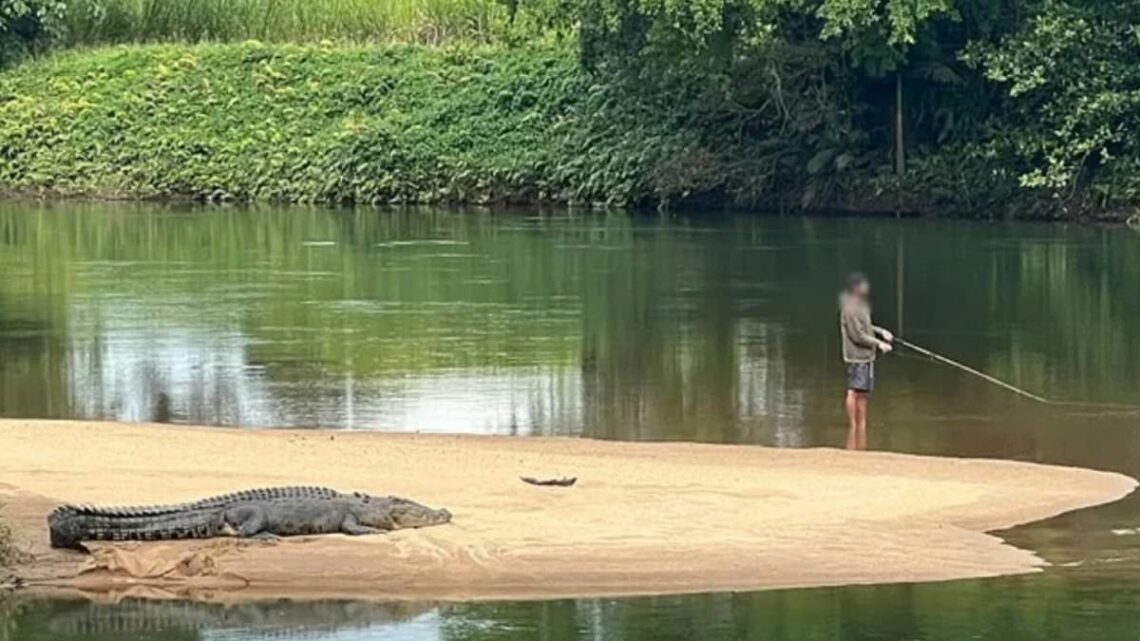 British expat loses it over Aussie fisherman's 'stupid' act with croc
August 16, 2023
British expat loses it over Australian fisherman's 'stupid' act with crocodile
Video large crocodile behind fisherman
Footage taken in Far North Queensland 
A British expat has slammed an Aussie man for his 'f***ing stupidity' as he was caught on camera fishing metres away from a giant saltwater crocodile.
Tez Blackmore, from West London, was walking past a river bank in Far North Queensland on Sunday when he spotted a local fishing with a crocodile lying on the sand behind him.
Mr Blackmore labelled the Aussie man 'f***ing stupid' for his relaxed attitude around the dangerous reptile.
'I've seen some stupid things in Australia, and some f***ing stupid people, but this takes the piss,' Mr Blackmore can be heard saying behind the camera.
'Look at that big f***ing croc on the beach. F***ing d***head's fishing next to it… he's a cool croc. He's probably twice as long as that f***ing person.'
The fisherman is believed to be around six feet tall (182cm), with the crocodile appearing considerably larger.
In a second clip, the unfazed fisherman is seen leaving the bank's edge and casually walking past the crocodile.
Mr Blackmore did not reveal the exact location of where he filmed the fisherman and the croc because he is worried for the crocodile's safety.
The giant male crocodile is known to Far North Queensland locals and has even been given a nickname.
'He's a pretty big croc, and he's not a nuisance, so the last thing I'd want is for anything to happen to him,' Mr Blackmore told Yahoo.
Authorities often regard crocodile's that grow accustomed to humans as a threat and remove the reptiles from the area.
The video received backlash from critics, with many claiming the behaviour puts the fisherman's and crocodile's lives at risk.
The Aussie fisherman was seen fishing off the banks of a river in Far North Queensland while a large male saltwater crocodile lay on the sand just metres behind him (pictured) 
In a second clip the unfazed fisherman is seen leaving the edge of the bank and casually walking past the crocodile (pictured) 
Queensland's crocodile expert Tommy Hayes is familiar with the crocodile and shared Mr Blackmore's concerns claiming the video gave him 'goosebumps.
'What the guy is doing in the video is beyond complacency, it's f***ing stupidity,' Mr Hayes said. 
'Where he's standing is maybe 10 or 15 metres from the crocodile. I've got goosebumps and not the good kind.'
It comes after a series of videos emerged showing a social media trend where influencers venture into croc-infested waters. 
Tourist Alistair MacPhee also filmed himself wading into the croc-infested Bloomfield River, which is also in far north Queensland.
Mr MacPhee was bitten on the leg by a  crocodile and survived the attack, while his beloved dog Magic Molly was swallowed whole.
The 4.2m crocodile was shot dead by wildlife officers, with rangers finding Mr McPhee's pet inside its stomach. 
Alistair MacPhee (pictured left) was attacked and badly injured by a crocodile while his beloved dog Magic Molly (right) was killed and swallowed whole
Father of the late Steve Irwin, Bob Irwin urged the Queensland government for harsher penalties for tourists and locals who take risks around crocs. 
Mr Irwin commented on Mr MacPhee's encounter with a croc, claiming his pet dog paid the ultimate price.  
'The crocodile and his pet dog, Molly, have since paid the ultimate price for this individual's blatant stupidity,' Mr Irwin said.
'I might add, the crocodile spat Alister MacPhee out. But now he's got a scar and a story to tell, and that story is attracting worldwide attention.'
Mr Hayes also called for harsher penalties for those who intentionally provoke wild crocodiles. 
'[Crocodiles]don't trust humans because they're friendly, they just know humans aren't going to hurt them, so they're just waiting on that moment to strike,' Mr Hayes said.
'It's a natural behaviour caused by unnatural things. But that behaviour isn't caused by the crocodile, it's caused by humans.'
Source: Read Full Article