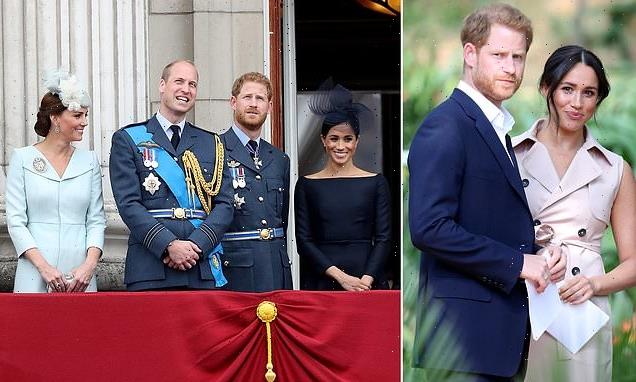 'Apologise!' Prince Harry demands Royal Family say sorry to Meghan
January 14, 2023
'Apologise!' Prince Harry demands that Royal Family say sorry to Meghan as he says 'You know what you did, and I now know why you did it. And you've been caught out, so just come clean'
Prince Harry has demanded that the Royal Family apologise to Meghan Markle
It comes after the prince made a series of explosive claims in his new memoir
He also claimed he was being treated as if he were 'delusional and paranoid'
It is not clear what Harry wants the rest of his family to apologise to his wife for  
Prince Harry has demanded the Royal Family apologise to Meghan Markle after he made a series of explosive claims in his new book, claiming his family were treating him as if he were 'delusional and paranoid'. 
The prince said: 'You know what you did, and I now know why you did it. And you've been caught out, so just come clean.' 
It is not clear what Harry wants his family to apologise to his wife for but he claimed he was fighting the 'good fight' by siding with Meghan.
He claimed that 'if people had listened' to his concerns earlier, the gulf between he and Meghan and the rest of the royals would not have grown so wide.
Prince Harry has demanded an apology from the Royal Family to his wife Meghan for unspecified reasons 
The prince accused the royals of being a 'bubble within a bubble', saying that he could not 'get through' to them
In an interview with The Telegraph before the official launch of his book earlier this week, Harry appeared to blame his family for the feud.
There's enough for another book! Prince Harry says he cut his memoir in HALF and stripped out details about his father and brother 
He said: 'It was all so avoidable. But they just couldn't help themselves.'
The Duke of Sussex added that he could not understand why it seemed 'shocking and outrageous' for him to tell what he said was the 'truthful' side of the story.
Harry also claimed he felt a 'responsibility' to reform the monarchy in the interests of his two young children.
He also described how therapy had helped him, but said he was unable to 'get through' to his family to agree with him.
He said: 'That's when I started trying to explain to them how some of their decisions and some of the things they were doing – or not doing – was going to reflect on them. Badly. 
'Especially across the global stage, especially across the Commonwealth, with relation to my now wife. And I couldn't get through to them. And it wasn't one or two people that I was trying to get through to. 
'It was a mindset. It was a culture, within a bubble within a bubble, that while I was there was unbreakable.'
After a falling out with the the rest of the family which saw them step back from royal duties, Harry and Meghan moved to Canada in 2020.
Prince Harry voiced concerns about the future of the other 'spares' in the royal family to his brother – who 'made it very clear that the children are not his responsibility'
The Duke of Sussex claimed his family were acting as if he were 'delusional and paranoid'
Harry has now claimed the royals 'scuppered the whole plan… through their need to financially control us, the jealousy, and this unfortunate situation whereby us just existing outside of their control is somehow problematic for them.'
In his new book, Harry claims members of the royal household regularly briefed to the press, including for negative articles about Meghan.
He said in the new interview that 'the very people who were supposed to protect us were complicit in all of the stories that were literally destroying my wife in front of my very eyes, to the point that I was coming back from London to Frogmore after Archie was born, and I would walk into the nursery and there she was in floods of tears, tears dripping on Archie while she was breastfeeding him.'
Although Harry has been criticised for sharing private conversations with and intimate details about his family members.
However, the prince claimed there are many other details he has chosen not to share because 'I just don't want the world to know', adding his family might not 'ever forgive him if he did so.
Harry also challenged his family members to speak with him and apologise to Meghan, though it is not clear what for.
Talking about his family, he said: 'I wish you'd actually sit down with me, properly, and instead of saying I'm delusional and paranoid, actually sit down and have a proper conversation about this, because what I'd really like is some accountability. And an apology to my wife.
Prince William was the first to introduce Harry to therapy, before becoming concerned his brother was becoming 'brainwashed' by his sessions
Harry (pictured at the procession of the Queen's coffin) said he wanted to sit down and talk with his family 
'Because you know what you did, and I now know why you did it. And you've been caught out, so just come clean, and then we could all move on.'
In his memoir Spare and several interviews to promote it, Harry has levelled wide ranging and damaging accusations against his closest relatives.
It is a week since Harry's ghostwritten biography made world headlines, and this was the sixth interview he has granted to push sales of the book, which publisher Penguin Random House says is already a record breaker. 
Harry has spoken openly that he used ayahuasca, a psychedelic, with a professional while seeking therapy for his mental health issues.
While William was the first person to encourage Harry to try therapy, he says after he sought out the alternative treatment he realised there was only a greater divide with his brother on the other side of it.
He hopes one day the heir will also embrace therapy after the traumatic experiences they shared in childhood. 
In Spare, Harry revealed William believes all his therapy has made him delusional and questioned whether he was being 'brainwashed' by the therapist he was seeing.
Elsewhere in his interview with The Telegraph, Harry expanded on his motive for speaking out. 
He said: 'This is not about trying to collapse the monarchy, this is about trying to save them from themselves.  And I know that I will get crucified by numerous people for saying that.' 
Harry also suggested that reform was needed in the Royal family.
'If only 10 per cent of the scrutiny that was put on me and M was put on this institution, we wouldn't be in this mess right now,' he said in a condemning remark.  
'It's so dirty. It's so dark. And it will continue and it will carry on and I look forward to the day when we are no longer part of it, but I worry about who's next,' he added. 
Source: Read Full Article