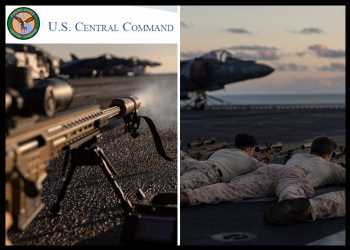 US To Deploy 300 Additional Troops To Middle East
November 1, 2023
The Pentagon has announced that an additional 300 U.S. troops will deploy to the U.S. Central Command area of operations as war rages in the Middle East.
Pentagon Press Secretary Brig. Gen. Pat Ryder said at a news conference that these troops will provide capabilities in explosive ordnance disposal, communications and other support functions for forces already in the region.
He made it clear that these forces will not go to Israel. "They are intended to support regional deterrence efforts and further bolster U.S. force protection capabilities," he told reporters.
In the wake of the war, two aircraft carriers – USS Gerald R. Ford and USS Dwight D. Eisenhower – and their strike groups have arrived in the Eastern Mediterranean in support of Israel military in addition to tens of thousands of U.S. troops already in the region.
U.S. has rushed in security assistance and advisors with deep experience in urban combat to Israel.
This is in addition to a squadron of U.S. F-16 fighter jets that arrived in the Middle East last week to help protect U.S. troops.
Ryder said that Since Hamas attacked Israel on October 7, militia groups backed by Iran have attacked U.S. forces conducting counterterrorism missions in both Iraq and Syria on 27 occasions.
"Since our self-defense strikes (on October 26), there have been six additional, what I would consider, small scale attacks: Three in Iraq, three in Syria," he told reporters.
Ryder alleged that Hamas is deliberately employing innocent Gazan civilians as human shields.
In this context, "We're going to continue to talk to our Israeli partners about the importance of taking civilian safety into account as they conduct their operations".
Meanwhile, in his testimony before the Senate Appropriations Committee on Tuesday, Secretary of Defense Lloyd Austin submitted an "urgent supplemental budget request" of $10.6 billion to help Israel defend itself.
At a separate news conference, the National Security Council Coordinator for Strategic Communications John Kirby said that 66 trucks with lifesaving humanitarian assistance got into Gaza over the last 24 hours, which is the highest single-day delivery so far. "It's a trickle compared to what needs to get in".
Kirby said Washington is continuing to press for the resumption of essential services, including water and the delivery of fuel, to the thickly populated enclave, where the humanitarian situation is dire.
Dozens of casualties were reported in Israeli bombing at a densely populated refugee camp in Gaza.
Source: Read Full Article