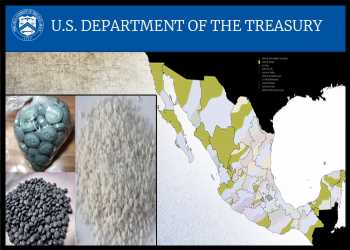 Treasury Sanctions Sinaloa Cartel Network Of 'Super Lab' Suppliers And Fentanyl Operators
February 23, 2023
The United States has imposed sanctions on six members of the Mexican Sinaloa Cartel involved in the illicit methamphetamine and fentanyl trade as well as six Mexico-based entities.
Led by brothers Ludim Zamudio Lerma and Luis Alfonso Zamudio Lerma, the Sinaloa network is responsible for diverting illicit precursor chemicals to the hands of Sinaloa Cartel members and laboratory operators. The Sinaloa Cartel is the main facilitator of illicit fentanyl and other deadly drugs being trafficked into the United States.
"The Zamudio Lerma brothers and their network enable the production of synthetic drugs that devastate American lives, while lining the pockets of Sinaloa Cartel leadership," said the U.S. Department of the Treasury's Office of Foreign Assets Control (OFAC) Director Andrea Gacki. "Depriving this network of access and resources will hinder the Sinaloa Cartel's ability to produce and traffic the illicit drugs it depends on," he added.
Based in the north-western Mexican state of Sinaloa, Ludim Zamudio Lerma, his son Ludim Zamudio Ibarra, and Lerma's brother Luis Alfonso Zamudio Lerma supply illicit precursor chemicals to high-level Sinaloa Cartel members. They include Luis Gerardo Flores Madrid, who works for Ovidio Guzman Lopez, the recently captured son of Joaquin "El Chapo" Guzman Loera, and lab operators, including Ernesto Machado Torres and Jose Santana Arredondo Beltran.
OFAC said that it designated these six individuals "for having engaged in, or attempted to engage in, activities or transactions that have materially contributed to, or pose a significant risk of materially contributing to, the international proliferation of illicit drugs or their means of production."
The precursor chemicals are used in super labs — large-scale drug laboratories that produce 10 or more pounds of an illicit drug per production cycle — to produce illicit fentanyl and methamphetamine for the Sinaloa Cartel.
The six Mexican entities that were subjected to sanctions are Aceros y Refacciones del Humaya, S.A. de C.V. and Farmacia Ludim, Mexico-based businesses owned by the Zamudio family; Inmobiliaria del Rio Humaya, S.A. de C.V. and Operadora Zait, S.A. de C.V., two real estate businesses; and Operadora del Humaya, S.A. de C.V. and Operadora Parque Alamedas, S. de R.L. de C.V., two import/export companies.
This action was coordinated closely with the Government of Mexico, the FBI Phoenix Field Office (Tucson Resident Agency), the FBI Legal Attaché San Salvador (Sub-Office Guatemala City), and the DEA Tucson District Office.
As a result of the sanctions, all property and interests in property of the designated individuals that are in the United States or in the possession or control of U.S. persons must be blocked and reported to OFAC.
OFAC said that it will continue to target and pursue accountability for foreign illicit drug actors in coordination with its U.S. government partners and foreign counterparts.
The trafficking of illicit drugs into the United States causes the deaths of tens of thousands of Americans annually, as well as countless non-fatal overdoses.
Source: Read Full Article