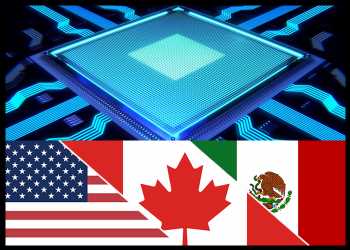 North American Leaders' Summit Pledge Cooperation On Semiconductors
January 12, 2023
The North American Leaders' Summit has pledged to deepen economic cooperation, promote investment, and reinforce competitiveness, innovation, and resilience.
The highlight of the summit declaration was an agreement among the United States, Mexico and Canada to cooperate on bolstering the supply of semiconductors, a market dominated by Asia, especially China.
U.S. President Joe Biden was joined by Canadian Prime Minister Justin Trudeau and Mexican President Andres Manuel Lopez Obrador in Mexico City for the 10th summit of the North American Leaders.
The three leaders agreed to fortify the region's security, prosperity, sustainability and inclusiveness through commitments across six pillars: diversity, equity, and inclusion; climate change and the environment; competitiveness; migration and development; health; and regional security.
The White House said that the first-ever trilateral semiconductor forum with industry will be convened early this year to adapt government policies and increase investment in semiconductor supply chains across North America. Senior industry representatives and cabinet members of the United States, Mexico, and Canada governments will participate in it.
A coordinated semiconductor supply chain mapping will be conducted to develop a collective understanding of unmet needs. This mapping with all the three countries will identify complementary investment opportunities.
North American critical minerals resource mapping will be expanded to collect details on resources and reserves. The Geological Surveys of each country will organize a trilateral workshop to share data and facilitate cooperation.
Canada and Mexico will be added as co-government partners in the public-private partnership model of the decade-old 100K Strong initiative.
Meetings of industry and academia experts in semiconductors, ICT, biomanufacturing, and other key advanced manufacturing and logistics industries will be convened for design sessions on the skills needed to develop a North American workforce over the next five years.
The United States, Mexico, and Canada announced a set of ambitious measures to build clean energy economies and respond to the climate crisis.
This includes reducing methane emissions from the solid waste and wastewater sector by at least 15 percent by 2030, developing efforts to cut food loss and waste in half by 2030, electrifying and decarbonizing public buses through the cooperative development of a Joint Transit Decarbonization Toolkit, developing a plan for operating standards and the installation of EV chargers along international borders to ensure a seamless EV charging transition from country to country, and developing a North American clean hydrogen market.
Source: Read Full Article