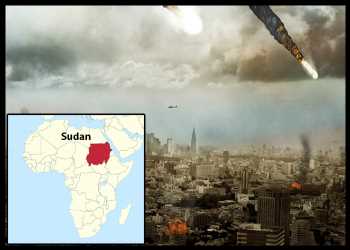 Foreign Governments Evacuate Their Personnel From War-ravaged Sudan
April 25, 2023
Foreign Governments are evacuating their diplomatic personnel and nationals from war-ravaged Sudan as fighting has entered into the second week.
The United States, Canada, U.K., France, Germany, Italy and Spain have been evacuating diplomats and other nationals from the north-eastern African country.
President Joe Biden said U.S. Armed Forces have conducted an operation to evacuate American personnel and others from Khartoum in response to the deteriorating security situation there.
Lt. Gen. Douglas A. Sims II, the Joint Staff's director of operations, said just under 100 American staff of the U.S. Embassy in Khartoum were evacuated.
U.S. military personnel with combat equipment have been deployed to Djibouti, Ethiopia, and Sudan.
Biden said U.S. Armed Forces personnel will remain deployed in Djibouti to protect United States personnel and others until the security situation no longer requires their presence, and additional forces are prepared to deploy to the region if required.
He added that he is receiving regular reports from his team on their ongoing work to assist Americans in Sudan. "We are also working closely with our allies and partners in this effort".
The United States is temporarily suspending operations at the U.S. Embassy in Sudan.
French foreign and army ministries said in a joint statemen that 388 people, including French and other European nationals, have been evacuated so far from Khartoum.
"Two new rotations were carried out by the French air force between Khartoum and Djibouti City at the end of the day on 23 April and in the morning of 24 April, with about 100 people on board each time," it added.
European Union foreign policy chief Josep Borrell said that more than 1,000 EU citizens have been evacuated with the help of France.
British diplomats and their families were rescued on Sunday while dozens of others are left stranded.
A German army plane with more than 100 people on board has left Sudan for Jordan.
More than 420 people have died and thousands of others injured in week-long shooting and shelling between two rival forces in the country's capital Khartoum, according to WHO.
Sudan is heading for a humanitarian crisis as most hospitals are closed and Internet access and power supplies interrupted, reports say.
The fighting between the Sudanese army and the Rapid Support Forces paramilitary group has brought normal life to a halt with food and water shortages.
The World Food Programme (WFP) has warned of large-scale hunger in the country.
The UN agency has suspended its operations in Sudan after three of its aid workers were killed.
Source: Read Full Article