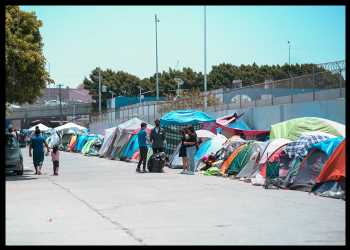 Biden Administration Announces Measures To Curb Illegal Migration
January 6, 2023
The Biden Administration has announced a set of new enforcement measures to increase security at the border, limit irregular migration between ports of entry, and create additional safe and orderly processes for people fleeing humanitarian crises to lawfully come to the United States.
These measures, aimed to deal with the current situation in the southwest border, were announced by President Joe Biden Thursday.
It will expand and expedite legal pathways for orderly migration and result in new consequences for those who fail to use those legal pathways. They also draw on the success of the Venezuela initiative launched in October, which resulted in a dramatic drop in the number of Venezuelan nationals attempting to enter the United States unlawfully, the White House said.
The Administration is also announcing that it is surging additional resources to the border and the region, scaling up its anti-smuggling operations, and expanding coordination and support for border cities and non-governmental organizations. The measures will be implemented in close partnership with Mexico and governments across the Western Hemisphere.
Biden said that while these steps will help address some of the most acute challenges at the Southwest border, they will not solve all of the problems in an immigration system that has been broken for far too long. That can only happen if Republicans in Congress quit blocking the comprehensive immigration reform and border security measures he proposed, according to Biden.
The Department of Homeland Security said that it continues to prepare for the end of the Title 42 public health order, which is currently the subject of multiple court orders, and a return to processing all noncitizens under the Department's Title 8 immigration authorities.
DHS said that when Title 42 eventually lifts, it will increase the use of expedited removal of individuals who attempt to enter the United States without permission to their country of origin. Such people will be subject to a five-year ban on re-entry.
DHS is establishing new parole processes for Cubans, Haitians, and Nicaraguans, modeled on the successful processes for Venezuelans and Ukrainians, which combine safe, orderly, and lawful pathways to the United States, including authorization to work.
"Through the CBP One app, we are also providing a new mechanism for noncitizens to schedule appointments to present themselves at ports of entry, facilitating safe and orderly arrivals," said DHS Secretary Alejandro Mayorkas. Initially this will be used for those seeking an exception from the Title 42 public health order. Once the Title 42 order is no longer in place, CBP One will be used to help ensure safe and orderly processing at ports of entry.
DHS is increasing and enhancing the use of expedited removal under Title 8 authorities for those who cannot be processed under the Title 42 public health order. These efforts include surging personnel and resources and enrolling individuals under the asylum processing interim final rule published in March 2022.
As a complement to these efforts, and in response to the unprecedented surge in migration across the hemisphere and to reduce encounters at the border, DHS and the Department of Justice (DOJ) intend to shortly issue a proposed rule that will incentivize the use of the new and existing lawful processes available in the Unites States and partner nations, and place certain conditions on asylum eligibility for those who fail to do so.
DHS said it will continue to monitor developments on the southwest border and will accelerate or implement additional measures, as needed, consistent with applicable court orders.
Source: Read Full Article