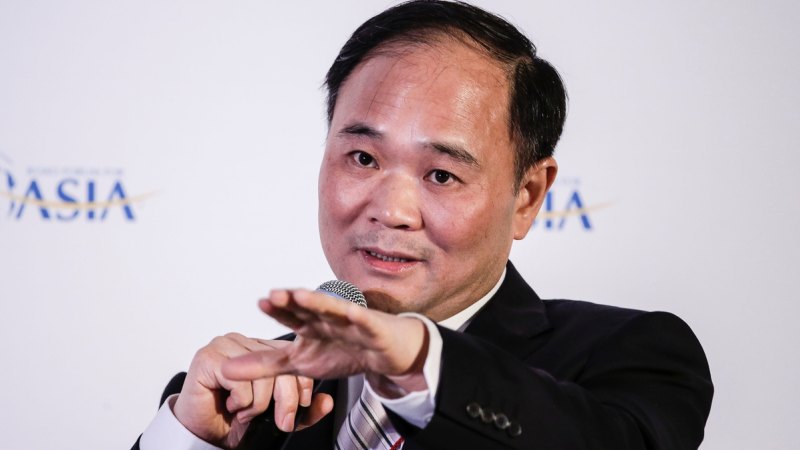 Under the radar: Chinese car giants playing a risky game in Russia
March 10, 2023
Chinese car manufacturers are filling the void global automakers left by pulling out of Russia. So far, they've managed to avoid the backlash aimed at Western companies that tried to stay.
Carmakers including Geely Automobile Holdings, minivan maker Chery Automobile and Great Wall known for its affordable Haval brand, grabbed 17 per cent of Russia's auto market in 2022 after most of the world's biggest automakers, including Volkswagen and Toyota, exited the country following its invasion of Ukraine just over a year ago.
Chinese car billionaire Li Shufu is taking advantage after Western car companies exited Russia. Credit:Bloomberg
While Western companies from Apple to Sony, BP and McDonald's withdrew from Russia in the early days of the war following swift economic sanctions and consumer pressure, many Chinese firms have continued to operate there with impunity. President Xi Jinping has stood by Vladimir Putin, and Chinese companies face little danger of a consumer backlash back home.
That's in stark contrast to the experience of Renault, which suffered one of the biggest blows among businesses that were reluctant a year ago to pull out of Russia. After Ukrainian President Volodymyr Zelenskiy criticised the carmaker and other French companies for "sponsoring Russia's war machine," Renault caved, shutting down operations in its second-biggest market and writing off $US2.4 billion ($3.6 billion) of assets. Japan's Fast Retailing also faced social media calls for a boycott after being slow to leave.
While the Chinese carmakers have so far avoided any blowback, their continued presence in Russia may put the spotlight on their web of global partners and risk tarnishing reputations just as some of the biggest names in the Chinese auto space look to make their mark globally, including in Europe and the US.
Geely, for instance, and its founder Li Shufu control Swedish automakers including Volvo and Polestar Automotive Holding. Geely and Volvo's Lynk & Co. brand offers monthly car rentals in cities including Berlin, Barcelona and Milan, and Geely's Zeekr Marque is collaborating with Google's self-driving company Waymo.
Billionaire Li has assembled a sprawling automobile empire to help stay on top of the industry's two biggest trends — electrification and automation. He is one of the top shareholders of Mercedes-Benz and Aston Martin Lagonda Global Holdings, while Geely has two joint venture projects with French carmaker Renault.
Geely and other Chinese carmakers have far more to gain operating in the rest of the world and working with companies like Renault than they do selling vehicles in Russia, according to Jeffrey Sonnenfeld, a professor at Yale University's School of Management, who has raised hackles in Russia by creating a global list of foreign companies that trade with the nation.
"The absolute best case in Russia for the Chinese companies pales in comparison to their worst case in those partnerships," said Sonnenfeld.
While Volvo and Mercedes joined the pullout from Russia a year ago, they and other companies linked to the Chinese carmakers still operating in Russia could face political pressure to sever ties with those that do business with Russia and indirectly support Putin's "war machine," he said.
Geely's founder Li is a top shareholder in Mercedes Benz.Credit:Bloomberg
Geely declined several requests for comment. Representatives for Volvo Car and Mercedes said they don't comment on other companies.
The top three Chinese carmakers in the Russian market — Chery, Great Wall and Geely — have been able to "fly under the radar" because they're not well known in Europe or the US, said Marina Rudyak, an assistant professor for Chinese Studies at Germany's Heidelberg University.
The companies shouldn't underestimate the amount of support people in Europe have for Ukraine, Rudyak said. "I think this is something that surprised China the most. Our gas prices doubled and for many people it's tough. China and Russia didn't expect the EU countries would be ready to take this on."
Great Wall Motors, the only Chinese automaker to have a manufacturing facility in Russia, was reported by Chinese state broadcaster CCTV to have sold its Haval SUV to the Russian military in 2021. Haval's website said it has subsidiaries in Australia, the US, and a sales network spanning over 60 countries and regions. Still, its export sales are a fraction of its domestic market, reducing its exposure to any potential backlash.
The rewards Chinese companies are reaping in Russia are small compared to the geopolitical risks they're taking.
The company, which also has a partnership with BMW AG to produce electric Mini vehicles in China, declined requests for comment.
While Chery — the top-selling Chinese brand in Russia last year — is the second-largest Chinese car exporter globally after state-backed SAIC Motor Corp, its main markets are in the Middle East, South America and Africa, where there has been a distinct lack of action against companies continuing to operate in Russia. Chery has a joint venture in China with Jaguar Land Rover.
Chery didn't respond to calls and emailed requests for comment.
The rewards Chinese companies are reaping in Russia are small compared to the geopolitical risks they're taking.
In 2022, Chery's sales in Russia averaged 4,475 vehicles a month; Great Wall averaged 2,940 a month and Geely, which sells its own models such as Coolray and Atlas, averaged just 2,035 deliveries a month, according to data from Russian analytics firm Autostat. Russia's top-selling model in 2022, the Lada Granta, sold an average 7,331 units per month.
Great Wall is the only Chinese automaker to have a manufacturing facility in Russia.Credit:Bloomberg
Russian vehicle sales have fluctuated wildly in the past decade, plunging 36 per cent in 2015 after the country was sanctioned for Moscow's annexation of Crimea. The volumes haven't recovered to the peak of around 2.9 million seen in 2008 and 2012, according to the Association for European Businesses. The Russia new-car market last year was less than 5 per cent the size of China's.
There's a reason why Great Wall is the only one of the three biggest Chinese automakers in Russia that has established a manufacturing base there, said Temur Umarov, a fellow at the Carnegie Endowment for International Peace.
"Russia is an unpredictable place to work in, and no one knows what's going to happen," said Umarov, who worked for Chinese automaker Lifan Technology Group in Moscow between 2016 and 2018. "An economic crisis is on the horizon and the purchasing power of the people is very low."
Bloomberg
The Business Briefing newsletter delivers major stories, exclusive coverage and expert opinion. Sign up to get it every weekday morning.
Most Viewed in Business
From our partners
Source: Read Full Article