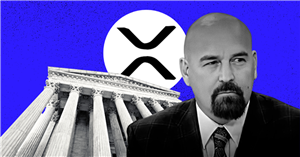 XRP Lawyer John Deaton Denies Having Any Insider Information on Ripple Inc. – Coinpedia Fintech News
September 23, 2023
John Deaton denies that he had insider information about Ripple's expansion plans, asserting that he was merely an observer.

Ripple's strategy to expand internationally and hire 80% of its workforce outside the United States is highlighted.

Despite a recent court ruling, the SEC persists in its classification of XRP as a security.
A recent misunderstanding in the world of cryptocurrency stirred quite a commotion. A crypto enthusiast on a platform known as "X" misinterpreted a post by John Deaton, leading to widespread belief that Deaton possessed insider information about Ripple Inc.
However, John Deaton swiftly addressed this misconception, setting the record straight.
Here's what happened and why it caused the kind of controversy it did!
A Little About Deaton…
John Deaton, a well-known advocate in the crypto sphere, is renowned for his candid expression of opinions. He is often perceived as having a deep understanding of the inner workings of businesses. Recently, he garnered attention by hinting at Ripple Labs expanding its workforce in Dubai, Singapore, and London to solidify its presence in Asia and Europe.
Michael Branch, however, wrongly attributed this information to Deaton, claiming he possessed insider knowledge.
Also Read: XRP Lawsuit: SEC Can only Settle with Ripple Only in One Condition, Says John Deaton 
Bashing the False Claims
Deaton explained that he never said anything about having inside knowledge in reaction to the erroneous assertion. He explained that he had no inside information but was simply present as an audience at Mainnet.
Deaton further goes on to state that Ripple's expansion plan suggests that it will also begin to operate outside of the United States. It had already stated that 80% of its hiring will be outside the States.
The comments on the misinformer's X post also sarcastically condemned him. One says, "International companies hire more staff… in international cities."
Ripple CEO Brad Garlinghouse told Bloomberg that "governments are partnering with the industry, and you're seeing leadership, they're providing clear rules, and you're seeing growth in Hong Kong, Singapore, the United Kingdom, and Dubai."
SEC vs. Ripple: A Long, Exhausting Battle
For over three years, the Securities and Exchange Commission (SEC) has been embroiled in a legal battle with Ripple, arguing that its XRP coin should be classified as a security. However, a pivotal moment occurred on July 17th when Judge Analisa Torres ruled that XRP is not a security. Nevertheless, the SEC remains steadfast in its stance, challenging the court's judgment.
Rather, the regulator wishes to file an interlocutory appeal in which an appellate court will re-examine Judge Torres' ruling. The judge has approved the request, and community members are anxiously monitoring the developments. 
Read More: Top Securities Expert Explains SEC "Had to Appeal" Ripple Situation, Decodes Binance Next Move
Recently, XRP's lawyer accused the SEC of spreading misinformation and frauding people with its anti-legislative views. The result of these new developments still remains to be seen.
Source: Read Full Article