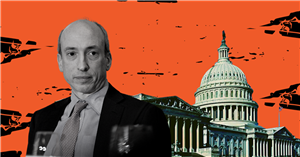 Crypto vs. SEC: SEC Chairman Gary Gensler Sticks to Tough Crypto Rules in Senate Hearing – Coinpedia Fintech News
September 12, 2023
Despite recent legal setbacks, Gary Gensler, the Chair of the U.S. Securities and Exchange Commission (SEC), remains firm in his belief that the SEC should lead in regulating the cryptocurrency space. He is about to deliver this message at a Senate Banking Committee hearing.
In his prepared testimony, Gensler highlighted the widespread noncompliance with securities laws in the crypto industry. He compared it to the pre-regulation era of the 1920s and stressed the need for regulatory oversight. According to Gensler, most crypto tokens fit the criteria of investment contracts, making them subject to securities laws.
SEC's Recent Losses
The SEC has recently faced legal defeats, especially in cases involving Grayscale and Ripple. These losses have encouraged other crypto companies facing SEC lawsuits to challenge the agency's authority. Notably, a judge partially ruled in favor of Ripple, stating that the sale of XRP tokens didn't violate federal securities laws.
Another setback for the SEC was when a judge deemed its rejection of Grayscale's request to convert its Bitcoin Trust into an exchange-traded fund (ETF) as "arbitrary and capricious."
SEC vs. LBRY
LBRY, a blockchain-based payments network, is also contesting an SEC ruling instead of shutting down. In March 2021, the SEC sued LBRY, alleging that their token LBC wasn't properly registered. This sparked a significant debate. Although the SEC didn't accuse LBRY of fraud, it sought permanent injunctions and the return of all funds.
Jeremy Kauffman, LBRY's CEO, expressed concerns that the ruling could harm many U.S. cryptocurrencies. Consequently, major players like Binance and Coinbase have threatened to leave U.S. markets unless clearer guidelines are provided.
Gensler's Impact on Crypto
Critics argue that Gensler's strict regulatory stance is harming the crypto industry. Some speculate about the potential political consequences of this approach, especially as the 2024 elections approach. There are concerns that Democrats may advocate for a more moderate stance to avoid negative electoral consequences.
While speculation about Gensler's future continues, his unwavering commitment to crypto regulation remains a central topic of discussion. The outcome of this regulatory battle will undoubtedly influence the direction of the crypto industry in the United States.
Source: Read Full Article