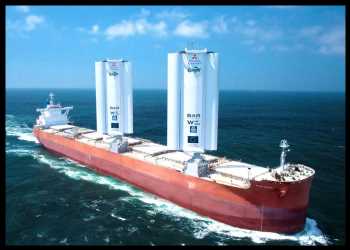 Wind-powered Cargo Ship Sets Sail On Pioneering Voyage
August 21, 2023
A wind-powered cargo ship, with the ground-breaking new technology that will bring cutting edge wind propulsion to commercial shipping, has set out on its maiden voyage.
Mitsubishi Corporation's Pyxis Ocean, chartered by Cargill, left on its first journey from China last week.
The bulk carrier, sailing at a speed of 12.4 knots, is expected to dock at the Brazilian port of Paranagua on September 15.
The British-designed special wind-powered vessel is the first of its kind, using wind technology, chartering a new path to cut carbon emission from the maritime industry.
WindWings are large wing sails measuring up to 37,5 meters in height that can be fitted to the deck of cargo ships to harness the power of wind. Produced by industrialization partner Yara Marine Technologies, they are expected to generate average fuel savings of up to 30 percent, which could be even higher if used in combination with alternative fuels. The wings were installed at the COSCO shipyard in China.
The pioneering WindWings technology is developed by BAR Technologies and produced by Yara Marine Technologies.
The performance of the WindWings will be closely monitored over the coming months to further improve their design, operation, and performance, Cargill Ocean transportation said.
"A technology like WindWings doesn't come without risk, and as an industry leader – in partnership with visionary shipowner Mitsubishi Corporation – we are not afraid to invest, take those risks and be transparent with our learnings to help our partners in maritime transition to a more sustainable future," said Jan Dieleman, President of Cargill's Ocean transportation business.
It is estimated the maritime industry is responsible for more than 2 percent of global carbon dioxide (CO2) emissions.
The WindWing project is part of a project that has received funding from the European Union.
Source: Read Full Article