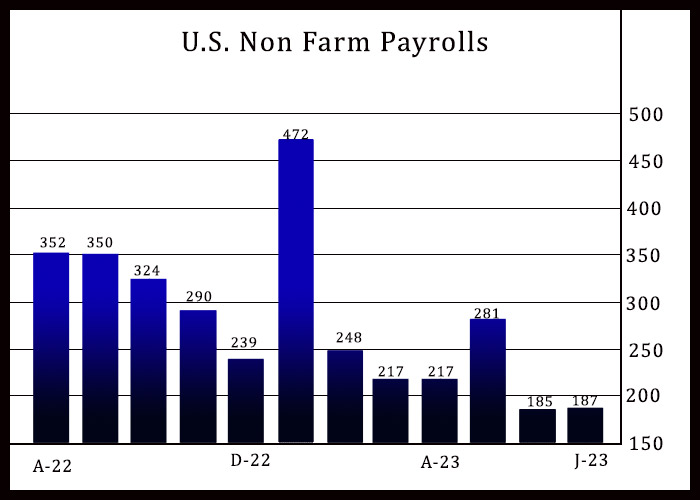 U.S. Employment Climbs By 187,000 Jobs In July, Less Than Expected
August 11, 2023
Employment in the U.S. increased by less than expected in the month of July, according to a closely watched report released by the Labor Department on Friday.
The report said non-farm payroll employment climbed by 187,000 jobs in July after rising by a downwardly revised by 185,000 jobs in June.
Economists had expected employment to jump by 200,000 jobs compared to the addition of 209,000 jobs originally reported for the previous month.
While the report showed a notable increase in healthcare and social assistance jobs, most other sectors saw only modest changes in employment.
Meanwhile, the Labor Department said the unemployment rate edged down to 3.5 percent in July from 3.6 percent in June. Economists had expected the unemployment rate to remain unchanged.
The unexpected dip by the unemployment rate came as the household survey measure of employment surged by 268,000 persons, while the labor force grew by 152,000 persons.
The Labor Department also said average hourly employee earnings increased by $0.14 or 0.4 percent to $33.74 in July.
Annual wage growth came in at 4.4 percent in July, unchanged from June. Economists had expected the pace of growth to slow to 4.2 percent.
"Job growth is weakening, and wage growth is holding steady, but both are still above the pace that would be consistent with the Federal Reserve's inflation target," said Mortgage Bankers Association VP and Deputy Chief Economist Joel Kan.
He added, "However, we expect that the FOMC will hold the federal funds target at its current level given the declining trend in inflation."
Source: Read Full Article