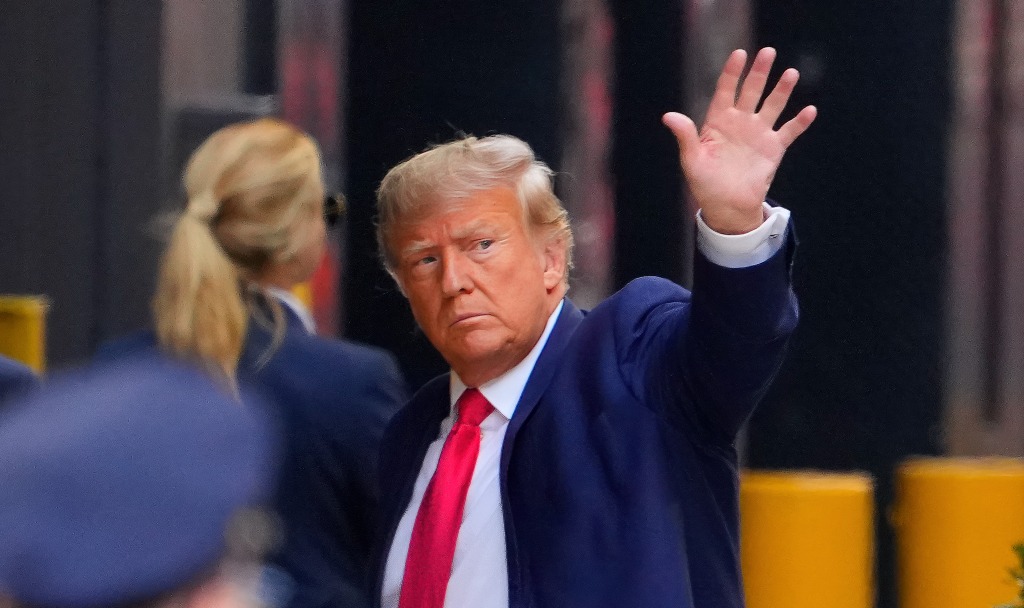 Trump Indictment: Networks Poised To Blanket Airwaves With Relentless Coverage
April 4, 2023
So far, all is peaceful at the Manhattan courthouse and outside Trump Tower, but the wall-to-wall coverage given to former President Donald Trump's journey from Florida to New York on Monday is just a preview of what is to come today.
Throughout the day, broadcast networks are planning to break into regular programming to capture moments of Trump's arraignment, while cable news channels are loading up on talking heads to fill spots when visuals are lacking.
And there could be a few: The actual hearing, set to start at around 2 PM ET/11 AM PT, will have limited camera access. New York Supreme Court Judge Juan Merchan ruled on Monday that he would not allow TV cameras to cover the proceedings, although he will allow five pool photographers to take still photos for several minutes before the proceedings begin. He will allow cameras in the hallway outside the courtroom — although it's unclear if Trump would be able to step and repeat from one outlet to the next.
Related Story
Donald Trump Wins Bid To Keep TV Cameras Out Of Tuesday's Arraignment Hearing, Kind Of
Media outlets are objecting to the judge's ruling, given the unusual nature of the case. Merchan also isn't allowing electronic devices in the courtroom, either.
"We urge the judge to allow TV and photographic cameras at Tuesday's hearing and at upcoming hearings, and to allow reporters to send information from the hearing in real time," Sally Buzbee, executive editor of The Washington Post, said in a statement. "No purpose is served by restricting access in this way."
That said, if the indictment is released just prior to the start of the hearing, network reporters and pundits will have plenty to analyze, after days of speculating on just what charges Trump is facing. Yahoo's Michael Isikoff reported that Trump will face charges of 34 felony counts of falsification of business records.
Trump is expected to arrive around 11 AM ET/2 PM PT for booking and processing — we still don't know if a mug shot will be taken and released — and may give a statement outside the courthouse afterward. District Attorney Alvin Bragg is planning a press conference at 3:30 PM ET/12:30 PM PT.
Although Trump is entering the annals of history, he also has been savoring the attention, regularly Truth Social-ing out attacks on Bragg, posting images from his trek to New York and raising money off the whole spectacle.
One possibility that has been floated is that Trump could face a gag order limiting what he could say about the case. Trump has attacked not just Bragg and his wife, but the judge himself. One of Trump's attorneys, Joe Tacopina, told Good Morning America this morning that they have had "no indication" of that happening.
Trump plans to return to Florida this evening to give a speech around 8:30 PM ET/5:30 PM PT. Fox News plans coverage, but some of the other networks are still in a wait and see approach, as they have been for a number of the former president's 2024 rallies up to this point. But cable channels are planning more specials. MSNBC is planning an 8 PM ET/5 PM PT special on the indictment, including Rachel Maddow along with most of its regular hosts. CNN, meanwhile, debuted the first part of its new daytime format, CNN News Central, in which anchors stand, not sit, before giant screens that convey a similar sense of urgency given to an election night. Tonight, Jake Tapper and Anderson Cooper will host CNN Primetime at 9 PM ET, focusing on Trump's indictment. C SPAN will cover the press conferences and Trump statements, and take the Spectrum News NY1 feed for other parts of the day.
Finally, there is one phrase you'll likely hear over and over again today: Unprecedented.
Must Read Stories
Disney EMEA Staff Bracing For Layoffs & Content Cuts
Michael Mann Eyeing 'Heat 2' As Next Film; Warner Bros In Negotiations, Adam Driver In Talks
Sets Strike Authorization Vote Date: "Must Demonstrate Our Willingness To Fight"
Donald Trump Wins Bid To Keep TV Cameras Out Of Tuesday's Arraignment Hearing
Read More About:
Source: Read Full Article