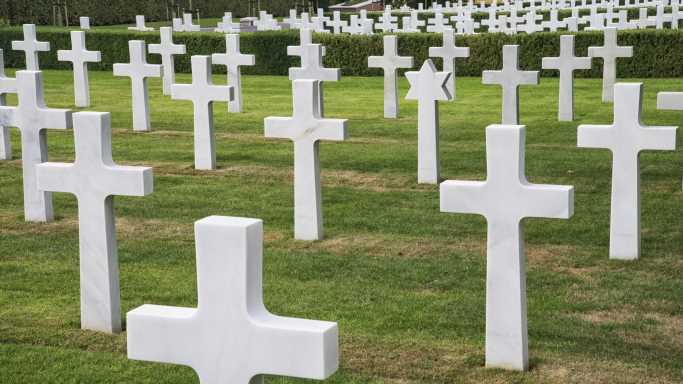 This War Memorial Abroad Has the Most American Soldiers Buried
August 27, 2023
The United States of America has repeatedly sent troops to fight abroad, and many of them did not return. These soldiers, who have sacrificed their lives for their country, are buried in cemeteries all around the world. These overseas U.S. military cemeteries are some of the U.S.'s most sacred and revered war memorials.
To determine the U.S. military cemeteries overseas where the most Americans are interred, 24/7 Wall St. referenced the American Battle Monuments Commission's list of overseas monuments and cemeteries. The ABMC was established in 1923 to maintain and operate U.S. military cemeteries and monuments in foreign countries. Cemeteries are ranked by how many U.S. soldiers are interred there. Information on what year each cemetery was dedicated, how many were missing in action, and how big each cemetery is in terms of acreage also came from the ABMC. It should be noted that the memorials on the list are not necessarily every monument or cemetery located overseas but rather the major ones.
One of the most well-known overseas U.S. military cemeteries is the Normandy American Cemetery. Located near Omaha Beach, this cemetery is the final resting place of over 9,000 American soldiers who fought and died during the D-Day invasion of Europe in World War II. The cemetery is designed in a way that creates the impression of the emergence of soldiers from the ocean waves on the beaches of Normandy.
Another notable U.S. military cemetery located overseas is the Meuse-Argonne American Cemetery and Memorial. This cemetery is located in France and is home to the remains of more than 14,000 Americans who died in the Meuse-Argonne Offensive of World War I. This is the largest American military cemetery in Europe. (Also see, countries with the most U.S. military bases.)
Eight of the cemeteries on the list were dedicated in 1937, following WWI. Six were dedicated in 1956 and eight in 1960, following WWII. The earliest dedicated cemetery abroad that is on the list is in Mexico to commemorate those lost in the Mexican-American War. (These are the oldest U.S. military bases outside the country.)
These U.S. military cemeteries located overseas serve as an important reminder of the brave men and women who fought for America's freedom and gave the ultimate sacrifice. 
Here's a look at the overseas U.S. military cemeteries with the most buried Americans:
Sponsored: Tips for Investing
A financial advisor can help you understand the advantages and disadvantages of investment properties. Finding a qualified financial advisor doesn't have to be hard. SmartAsset's free tool matches you with up to three financial advisors who serve your area, and you can interview your advisor matches at no cost to decide which one is right for you. If you're ready to find an advisor who can help you achieve your financial goals, get started now.
Investing in real estate can diversify your portfolio. But expanding your horizons may add additional costs. If you're an investor looking to minimize expenses, consider checking out online brokerages. They often offer low investment fees, helping you maximize your profit.
Source: Read Full Article