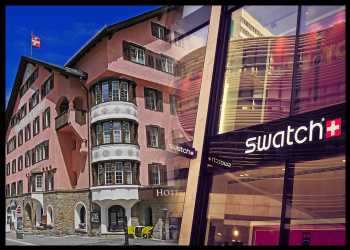 Swiss Trade Surplus Shrinks In 2022 As Export Growth Slows
January 31, 2023
Switzerland's foreign trade surplus decreased during the year 2022 compared to last year, as imports grew faster than exports, data from the Federal Customs Administration showed on Tuesday. Separate data showed that Swiss watch exports registered double-digit growth in 2022.
The trade surplus for 2022 was CHF 43.5 billion, down from CHF 58.5 billion in 2021.
In real terms, exports rose only 0.1 percent in 2022 versus a 9.5 percent sharp growth in the previous year.
Imports logged an increase of 0.7 percent over the year, after a 1.9 percent gain in 2021.
In nominal terms, exports rose 7.2 percent from a year ago, driven by rising prices, while imports grew at a much faster rate of 16.8 percent.
Read more: Swiss Economic Outlook Brightens Slightly: KOF
The smaller increase in exports in 2022 was largely caused by the 6.9 percent fall in outflows of vehicles, followed by chemicals and pharmaceuticals with 4.4 percent decrease.
In addition, the growth of shipments of jewellery items eased sharply to 21.3 percent from 38.0 percent, which considerably affected the overall export performance in 2022.
During the fourth quarter of 2022, the total trade surplus of the country shrank to CHF 7.1 billion from CHF 8.0 billion in the preceding three-month period.
Exports fell by a real 1.8 percent compared to the third quarter, and imports slid by 0.4 percent.
In December, exports recovered strongly by 5.7 percent monthly, following a 2.7 percent fall in November. Imports also rose for the first time in three months by 0.3 percent.
According to the Federation of the Swiss Watch Industry, watch exports grew 5.8 percent year-on-year, and they broke the 2 billion francs bar, which had never occurred previously at this point in the year.
In the whole year 2022, total watch exports registered a double-digit growth of 11.4 percent to CHF 24.8 billion.
Source: Read Full Article