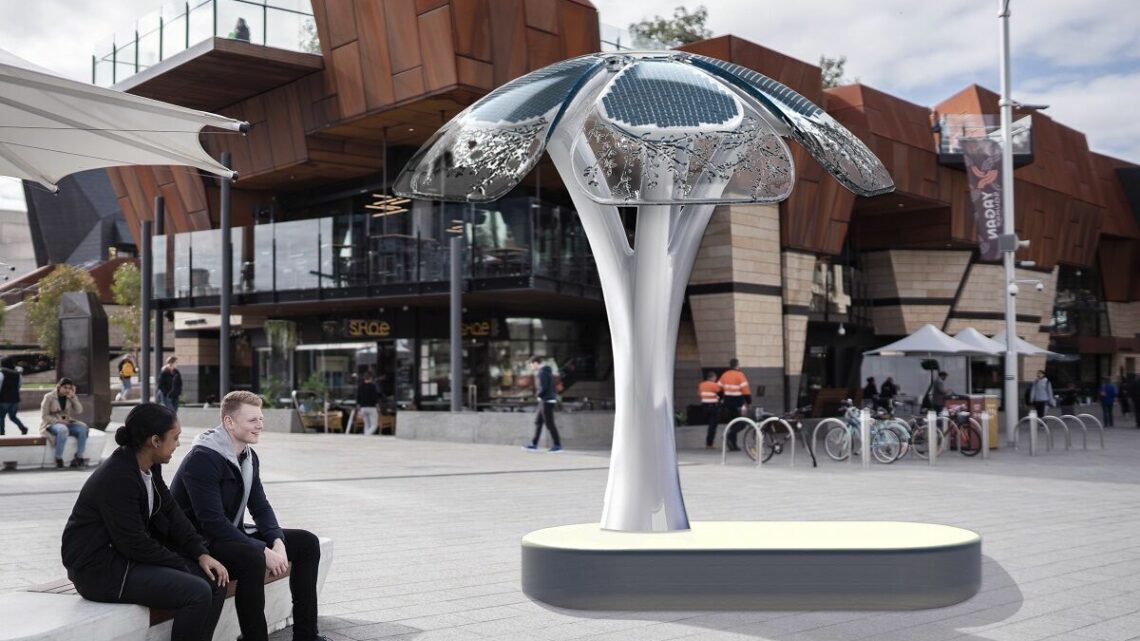 SolarBotanics branches out with stylish green power tree solution
November 3, 2022
We use your sign-up to provide content in ways you've consented to and to improve our understanding of you. This may include adverts from us and 3rd parties based on our understanding. You can unsubscribe at any time. More info
The revolutionary power and vehicle charging point solution has been developed by SolarBotanic Trees, a clean tech startup which has already received hundreds of advance orders. Collaborations with Brunel University London through its Co-Innovate enterprise programme, the Manufacturing Technology Centre in Coventry (MTC) and the University of Sheffield's Advanced Manufacturing Research Centre (AMRC) have been fundamental in getting the innovation to market.
Urban commercial locations such as airport car parks, sports stadia, shopping centres and exhibition venues are SolarBotanic's first focus.
However, as one tree can generate enough energy to power a three-room house, residential and office applications are also distinct possibilities.
The tree's dome has 3D surface area composed of nano (iPhone size) photovoltaic cells designed to capture as much light as possible throughout the seasons while its smart management and storage system can link trees to form part of a local grid or feed into the national one.
Calibration with wind speeds could also increase energy generation and beneath the canopy there are plenty of options too with space to park a car, grow shade-resistant crops or provide seating.
Founded by its now executive chairman and chemical industry expert Harry Corrigan a decade ago after a chance encounter linked him up with Brunel, SolarBotanic is the culmination of his work dedicated to decarbonisation and combatting climate change.
"Reshaping the panels without losing capacity has been a major technical challenge we've overcome," he says. "We see our work as an essential part of the world's electrified future and aim to be producing 3,000 trees a year by 2027."
After investing £250,000 of his own funds in various iterations, three years ago the project picked up pace and, drawing on a wealth of engineering and business talent, has now reached the commercial prototype stage with construction taking place in Sheffield.
A £1million investment raise is now underway and Corrigan is forecasting a £3million plus turnover for the business in 2024. A further version of the tree with combined advanced wind and solar generation modules is planned for 2025.
"Our intention to manufacture first in the UK to secure supply and for the tree's parts to be recyclable. We also have a plan for substitutes should there be any shortages," he explains.
"Discussions are ongoing with key supply chain partners covering manufacture – two potential partners in the UK, installation logistics and in-service support.
"Over next five years the R&D surrounding the tree will generate different IP that can be used to create trees in many shapes and forms."
Solarbotanictrees.com
Co-Innovate launches enterprise support accelerator for growing firms
The collaboration between SolarBotanic and Brunel Design School was brokered by Brunel University London's enterprise support programme Co-Innovate.
Dr Vanja Garaj, Brunel Design School's project leader for Co-Innovate and director of research says: "We realise that the search for renewable energy solutions has never been more important and the project with Solar Botanic has already had a very positive outcome.
"Through Co-Innovate we have supported over 500 companies across Greater London by giving owner managers greater access to Brunel University's expertise."
Between November and March 2023, Co-Innovate is running the Business Investment Accelerator for London's smaller firms. Experts from Brunel, NatWest, and The Business Board Room will prepare delegates to pitch to potential funders and investors. For more details contact [email protected].uk, and visit https://www.brunel.ac.uk/business/Business-Partnerships/Co-Innovate
Source: Read Full Article