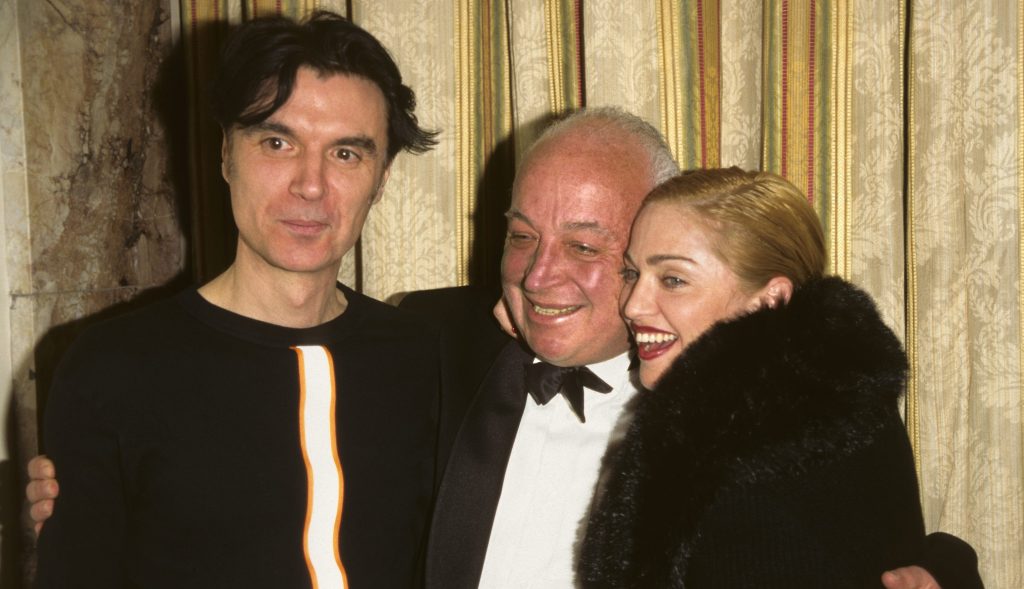 Seymour Stein Dies: Sire Records Co-Founder Who Launched Madonna, Talking Heads & The Ramones Was 80
April 3, 2023
Seymour Stein, the founder of Sire Records who launched the recording careers of Madonna, the Ramones, Talking Heads and the Pretenders, died Sunday of cancer in Los Angeles. He was 80.
His death was announced by his daughter Mandy Stein.
Related Story
Hollywood & Media Deaths In 2023: Photo Gallery & Obituaries
A hugely influential force on the American pop and rock music scene since the 1970s, Stein and his Sire Records, founded in 1966, made their first chart impact in 1973 with the oddball million-seller "Hocus Pocus," a song by Dutch band Focus that featured the unlikely combination of hard rock and yodeling.
But it was New York's downtown punk scene, centered on bars and clubs such as CBGB and the Mudd Club, that propelled Stein, along with then wife Linda Stein, into the forefront of rock's new wave of music makers. After Linda Stein attended a 1975 performances of the Ramones at the Lower East Side dive CBGB, Seymour Stein signed the band to Sire, initiating the label's connection to the downtown scene.
Although the self-titled Ramones album was not a commercial hit upon its 1976 release, Sire held steadfast to the up-and-coming new wave of musicians, soon signing Mudd Club regulars Talking Heads and the Chrissie Hynde-led American-British hybrid Pretenders, both bands destined for major commercial success and the Rock and Roll Hall of Fame. Sire would have its first No. 1 hit in 1979 with the quirky New Wave song "Pop Muzik" by M and hit the charts again in 1981 with Soft Cell's "Tainted Love."
Stein most successful signing came in 1983, when Sire signed the then-unknown Madonna to a deal that would produce three No. 1 albums and 10 No. 1 singles. Madonna left Sire in 1992 to start her Maverick label.
Other acts signed and championed by Stein include Cyndi Lauper, Barenaked Ladies, the Cure, Depeche Mode, the Smiths, Ice-T, Seal, k.d. lang, the Replacements, Everything but the Girl, My Bloody Valentine and Men Without Hats, among others.
Stein was a co-founder of the Rock and Roll Hall of Fame Foundation in 1983 and was inducted into the Rock Hall as a nonperformer in 2005. He retired in 2018.
Born Seymour Steinbigle on April 18, 1942, in Brooklyn, Stein began his music industry career after high school by taking a junior position at Billboard, then working at Cincinnati's King Records and Red Bird Records, the latter a label founded by Jerry Leiber and Mike Stoller that had a No. 1 hit in 1964 with the Dixie Cups' "Chapel of Love."
Stein's marriage to Linda Stein ended in the late 1970s (he came out as gay in a 2017 memoir). Linda Stein, who became a co-manager of the Ramones and later a New York City real estate agent, was murdered by a former assistant in 2007.
Stein is survived by daughter Mandy, a filmmaker whose credits include the 2009 documentary Burning Down the House: The Story of CBGB; three grandchildren; and a sister. He was preceded in death by daughter Samantha Jacobs.
Must Read Stories
WWE Confirms Merger With UFC Parent Endeavor To Create $21B Company
Fox Orders Medical Drama 'Doc' From Barbie Kligman, Hank Steinberg & Sony Based On Italy Hit
Paddington's Back: Peru-Set Threequel Gets Start Date With New & Returning Cast
Cineworld Reaches Chapter 11 Deal; Franchise Start For 'Dungeons & Dragons'?
Read More About:
Source: Read Full Article