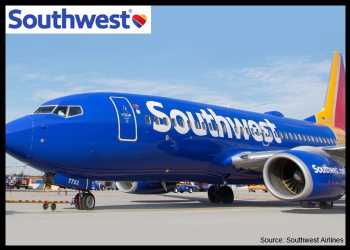 Quarter Of U.S. Flight Problems Complaints Target Southwest Airlines
August 3, 2023
A quarter of flight problems that U.S. domestic air travelers reported to the U.S. Department of Transportation in February were against Southwest Airlines, according to the latest Air Travel Consumer Report.
In February, DOT received 6,644 airline service complaints from consumers, down 38.6 percent from the complaints received in the previous month.
Out of them, 4,405 complaints were against U.S. carriers, and 1,928 were against foreign air carriers.
Flight problems was the highest category of complaints received. Of the 6,644 complaints received, 2,115 concerned cancellations, delays, or other deviations from airlines' schedules.
Of the 2,115 flight problems complaints, 540 were against Southwest Airlines. This amounts to more than 25 percent of the total.
The Department of Transportation said it is continuing its rigorous and comprehensive investigation into Southwest's meltdown where thousands of flights were canceled over the 2022 Christmas holiday and into the New Year.
The Department said its Office of Aviation Consumer Protection (OACP) is currently investigating several domestic airlines for unrealistic scheduling of flights.
OACP also contacts airlines with widespread cancellations or delays to make clear their obligation to promptly refund passengers who choose not to accept the alternative offered for a canceled or significantly changed flight.
Refunds was the second highest category of the complaints received in February. Of the 6,644 complaints received, 1,449, or 21.8 percent, concerned refunds.
The Department said that during the past two years, it has helped return more than two billion dollars in refunds to travelers.
Source: Read Full Article