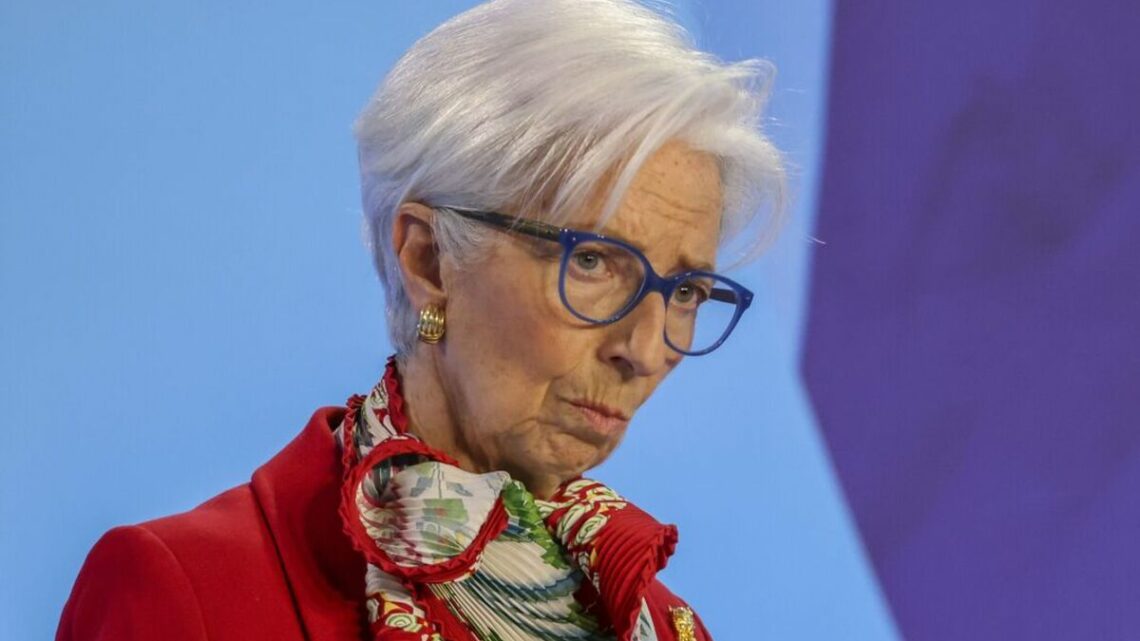 ECB brushes aside fears of economic collapse to raise interest rates
March 17, 2023
Bank of England raises interest rates to 4%
We use your sign-up to provide content in ways you've consented to and to improve our understanding of you. This may include adverts from us and 3rd parties based on our understanding. You can unsubscribe at any time. More info
The European Central bank has hiked interest rates as it pushes ahead to combat inflation in an apparent brushing aside of wider concerns and fears of an economic meltdown on the continent. Eurozone economies have been warned they could continue to find themselves behind US and UK growth after ECB President Christine Lagarde hiked rates by a half percentage point on Thursday.
While some foresaw a smaller increase because of the banking turmoil, President Lagarde repeatedly called the banking sector in the 20 countries using the euro currency "resilient," with strong financial reserves and plenty of ready cash.
And if it became necessary, she said, the ECB is "fully equipped" to provide additional support to the banking system.
She said: "We are monitoring current market tensions closely and stand ready to respond as necessary to preserve price stability and financial stability."
But the move sparked fears among analysts the ECB could be undermining a domino effect from worrying events in the US and Switzerland last week.
Silicon Valley Bank in the US went under last week after suffering losses on government-backed bonds that fell in value due to rising interest rates.
Then, globally connected Swiss bank Credit Suisse saw its shares plunge this week and had to turn to the Swiss central bank for emergency credit.
In a note sent to Express.co.uk, Richard Carter, head of fixed interest research at Quilter Cheviot warned: "The European Central Bank has taken a look at what is going on in the banking sector right now and has effectively said they are comfortable with what is happening by raising rates by half a percentage point.
"Credit Suisse appears to be teetering on the edge, and the ramifications its collapse could have on the European banking sector are profound, but the ECB continues to see inflation as the bigger risk to tackle.
"And this could perhaps be a good sign as it is hoped that the likes of Credit Suisse and Silicon Valley Bank are isolated incidents with their own set of circumstances.
"However, pressure will be placed on Christine Lagarde to act quicker than it has done with inflation if things do sour from here.
"The ECB continues to be behind the curve on rate rises compared to its US and UK counterparts. If inflation fails to come down swiftly this year, the bank could find itself with two competing forces – a struggling financial system that will impact on economic growth versus sticky inflation that shows no sign of returning to target.
"This is a tense period and one that will require central banks to be agile and swift in their decision making. For now, though they are deciding to stay the course on fighting inflation."
Don't miss…
Britons issued stark warning as TV licence fraud email circulates [INSIGHT]
Lloyds increases interest on regular savings account to 6.25% [DATA]
US sets up new base on Putin's doorstep [VIDE]
The troubles at Credit Suisse dragged down the shares of stalwart European lenders such as Deutsche Bank, BNP Paribas and Societe General on Wednesday. Bank shares recovered Thursday.
Analysts say the share selloff was fed by investor fear that banks took added risks to increase investment returns during years of very low interest rates and some may have failed to safeguard themselves against those holdings turning sour as rates rose.
As for more rate hikes in Europe, Lagarde said "inflation is projected to remain too high for too long" and that further increases will be based on what the numbers show. She did not commit either way, unlike her stance before Thursday's meeting when she said a rate increase was "very likely."
Source: Read Full Article