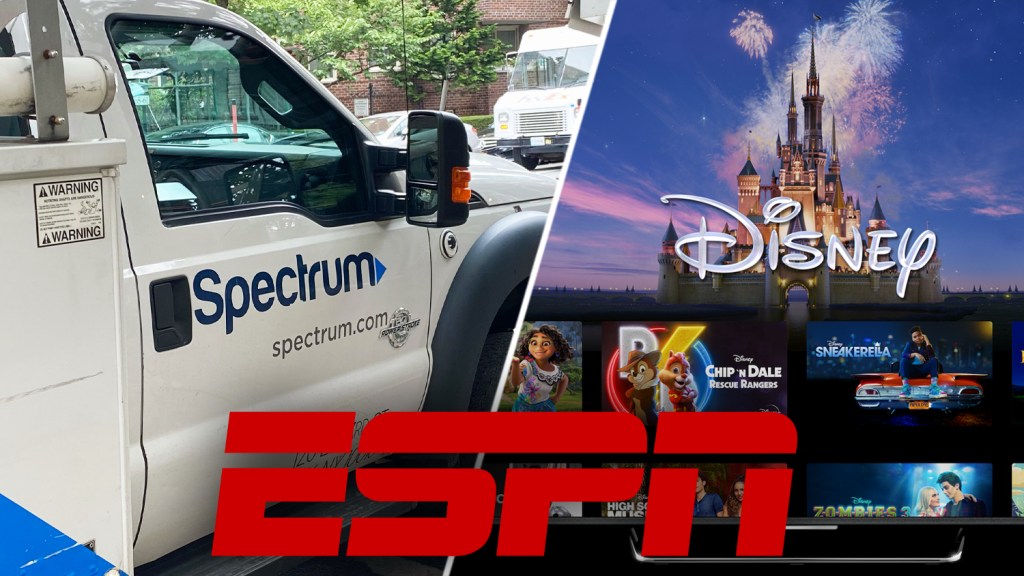 Disney-Charter Battle Makes Pay-TV Bundle's Fadeout A Stark Reality For Streaming-Focused Media Companies And Investors: "The Lifeboats Have Already Been Burned"
September 5, 2023
Just as this summer's New York City wildfire smoke, LA hurricane and sneaker-melting heat have brought home the reality of climate change, the Disney-Charter carriage battle is foregrounding the fragility of the pay-TV bundle.
Charter's Spectrum TV service is in its fifth day of darkness as the companies fight over carriage terms, leaving nearly 15 million customers without access to 18 Disney networks, including ESPN, as well as eight ABC stations.
When the fight broke into public view last Thursday, initial reactions raised existential questions about the fate of the bundle. "Is this the video tipping point?" wondered the headline of a research note by Guggenheim analyst Michael Morris, who believes the situation poses "increased and sustained risk for not only Disney but for video economics."
Related Stories
Breaking News
Whoopi Goldberg Misses 'The View' Season Premiere Due To Covid; Many Viewers Miss It Due To Disney-Spectrum Battle
Breaking News
Labor Day Weekend Has Been "A Frustrating One For Millions Of Spectrum Cable Subscribers," Disney Says In Latest Salvo, Adding Plug For Hulu TV Service And Rival Alternatives – Update
Bank of America analyst Jessica Reif Ehrich also sounded the alarm in a note to clients today. "If this posture were to be extrapolated across all other major video distributors, we believe it would have a devastating impact on the P&L of the entire traditional Media & Entertainment group," she wrote. "The result would lead to a significant decline in highly profitable linear subscribers that would be only partially recouped by likely fewer and less profitable DTC subs."
The debt carried by media companies, already a worry in the cases of Warner Bros. Discovery and Paramount Global, could get even more unwieldy if cash flow from affiliate fees declines markedly, many analysts have noted. That line item represents between 20% and 47% of total revenue for media companies, so it's not a casual matter. Charter has estimated it was projected to pay Disney $2.2 billion for carriage rights in 2023.
Charter shares, which have fallen 7% since the dispute began, shed 3% Tuesday to close at $408.99 as Wall Street greeted its self-described "line in the sand" with some suspicion. Disney stock, which has touched multi-year lows in recent weeks, slipped a fraction to end the day at $81.19. Stocks of most cable network parents sold off sharply last Friday as investors processed the news of the carriage fight, but they stabilized Tuesday. Wells Fargo analyst Steven Cahall slashed his 12-month price target for Disney by $30 in a report today to $110 from $146, citing challenges in pay-TV and other areas, but retained his "overweight" (buy) rating on the shares. One key reason for his bullishness is that despite the ever-complicated pathway to consumers, Disney controls a wide range of premium intellectual property.
Although it has pumped out profits for decades, even in decline, the pay-TV bundle has come under intense assault in recent years. As media companies have invested in direct-to-consumer streaming, looking to finally close the gap with Netflix, along the way shifting sports and scripted programming away from the bundle, pay-TV operators have raised objections. Citing what he called "massive cannibalization" between Disney cable networks and streaming siblings Disney+ and Hulu, Charter CEO Chris Winfrey warned on Friday that the company could be willing to pivot away from video permanently if a swift resolution cannot be achieved. "This is not a typical carriage dispute," he said during a conference call with investors. "The current video ecosystem is broken."
A blog post by analyst and investment firm LightShed Partners noted that Disney's stated plans to take ESPN over the top in a fortified DTC offering in the coming years has amped up tensions. Comments from Disney execs about the inevitability of ESPN being available outside the bundle exacerbated concerns that Disney was banking on compensation from operators to integrate streaming options with linear TV. "As consumption of linear TV collapses, Charter views it as untenable to force its subscribers to pay 'more' for networks that have been depleted of content, while those same subscribers also have to keep paying for DTC streaming offerings from the same company," LightShed wrote.
Assessing the entire landscape, MoffettNathanson's Michael Nathanson, Craig Moffett and Robert Fishman predicted in a note to clients that Charter could make a profitable go of it without relying on video. Programmers, they argued, have placed their bets on streaming even though its economic model remains shaky, With the possible exception of Fox Corp., they have decided to favor streaming and increasingly turn away from the traditional bundle, in the analysts' view. "The lifeboats have already been burned," they wrote.
Plenty of pay-TV operators have either questioned the viability of the pay-TV business (Dish Networks, Altice) and still others have officially abandoned it, among them smaller player Cable One. The company moved away from video in order to save "time and energy spent focusing on an unprofitable product offering," execs announced in 2022.
"Video is already being de-emphasized" at Spectrum, according to the MoffettNathanson report. "If need be, it will just be de-emphasized faster. Cable One long ago demonstrated that losing video is relatively painless (their march towards a broadband-only positioning started with a carriage impasse with Viacom). Charter, like all of Cable One's peers, has absorbed the lesson. Disney may learn the hard way that it's tough to win a negotiation with a counterparty that has nothing to lose."
Although MoffettNathanson report said Charter was already preparing a smooth offramp for video customers ahead of the September 11 Monday Night Football kickoff featuring the New York Jets and Buffalo Bills, anecdotal evidence offers indications to the contrary. Deadline has learned from multiple customers that interactions with customer service representatives involve a series of hoops to jump through as the company exhausts all options to cling to still-profitable video subscribers.
One source familiar with the dynamic between Charter and Disney told Deadline, "They can say what they want, but will they really ultimately decide to walk away? They will need to replace that revenue pretty quickly. Right now, there's nothing immediately there to replace it."
Must Read Stories
CBS Will Have 'NCIS' Originals On Fall Sked With Paramount+'s 'Sydney' Spinoff
WB Discovery Expects Earnings Hit Of Up To $500M From Strikes This Year
Linklater Interview & 'Hit Man' Review; Ava DuVernay's 'Origins' Deal; More
'Equalizer 3' Heading To Second-Best Labor Day Opening Ever With $42M+
Read More About:
Source: Read Full Article