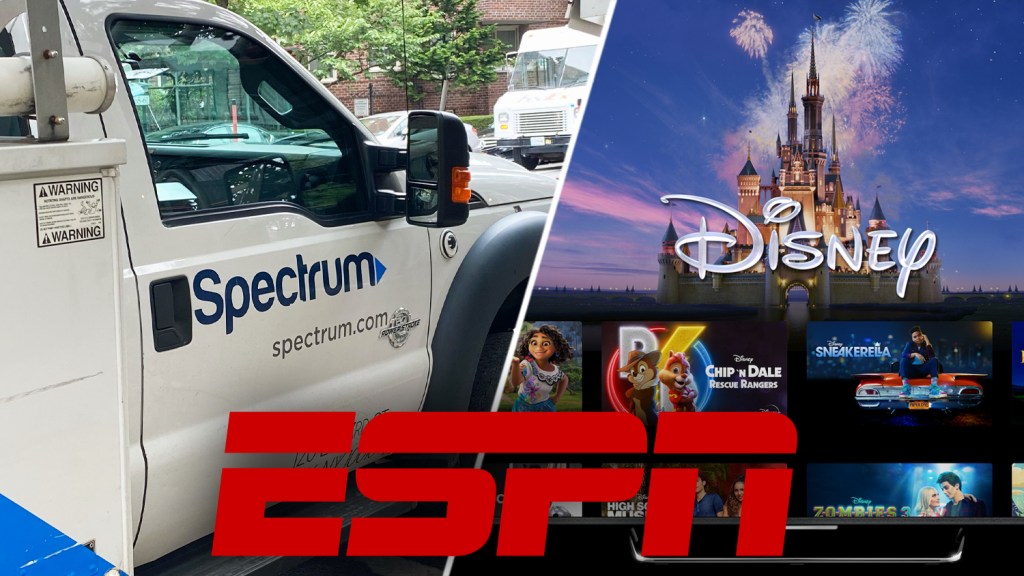 Disney And Spectrum Reach Carriage Agreement, Ending Epic 10-Day Impasse In Time For 'Monday Night Football'; Eight Networks To Remain Dark In Deal Touted As "Innovative Model For The Future" – Update
September 11, 2023
UPDATED WITH details and company comment. Disney and Charter Communications have reached a carriage renewal, ending a 10-day impasse that drew intense scrutiny to the shifting economics of pay-TV in the streaming era.
The agreement preserves carriage on Charter's Spectrum systems for 19 cable networks and stations, including ESPN, FX and ABC stations in major markets, but it leaves behind many others. The roster of networks that will no longer be carried by Spectrum includes Baby TV, Disney Junior, Disney XD, Freeform, FXM, FXX, Nat Geo Wild and Nat Geo Mundo. With 14.7 million customers, Spectrum is the No. 2 cable operator in the U.S.
Related Stories
Corporate Affairs
Disney-Charter Battle Makes Pay-TV Bundle's Fadeout A Stark Reality For Streaming-Focused Media Companies And Investors: "The Lifeboats Have Already Been Burned"
Breaking News
ESPN, Other Disney Networks & ABC Stations Go Dark On Spectrum Cable Systems In Carriage Fight
Of the eight ABC stations affected by the dispute, seven are returning to Spectrum, including WABC in New York and KABC in LA. But Philadelphia's WPVI is excluded from the new agreement.
In a joint statement, Disney CEO Bob Iger and Charter CEO Chris Winfrey said, "Our collective goal has always been to build an innovative model for the future. This deal recognizes both the continued value of linear television and the growing popularity of streaming services while addressing the evolving needs of our consumers. We also want to thank our mutual customers for their patience this past week and are pleased that Spectrum viewers once again have access to Disney's high-quality sports, news and entertainment programming, in time for Monday Night Football."
Since the evening of August 31, 19 Disney cable networks and eight ABC stations had been unavailable on Spectrum systems. The renewal was finalized just hours before the regular-season kickoff of Monday Night Football, featuring a highly anticipated matchup between the New York Jets and Buffalo Bills. Already, the impasse had wiped out more than a week of high-profile sporting events, including U.S. Open tennis and college football. ABC's fall season, though it has been hurt by the ongoing writers and actors strikes, was also hanging in the balance, and the reach of shows like The View had also been significantly narrowed due to the dispute.
The deal also will furnish the ad-supported tier of Disney+ to Spectrum TV Select subscribers, as part of a wholesale arrangement, and will include ESPN+ will be provided to Spectrum TV Select Plus subscribers. When ESPN launches its full-bodied direct-to-consumer service sometime in the next couple of years, it will be made available to Spectrum TV Select subscribers, the companies agreed.
Charter will "maintain flexibility to offer a range of video packages at varying price points based upon different customer viewing preferences," according to the official announcement of the deal. The distributor will also offer Disney's direct-to-consumer services to all customers at retail rates.
The impasse began after the two sides were unable to reach a compromise, clashing as many media companies and pay-TV operators have over direct-to-consumer streaming. Disney complained that Charter had wanted the rights to integrate Disney streaming services into its video offering without paying any extra fees. Charter countered that Disney was double-dealing by blurring the line between programming on its cable networks and that on its streaming services.
While fights over distribution are far from uncommon, they have taken on a more existential tone as the pay-TV bundle continues to shrink. About 25% of Charter's video customers have discontinued service in just the past five years alone, and Winfrey indicated at the outset of the impasse that the company was strongly considering "moving on" entirely from the pay-TV business. "This is not a typical carriage dispute," he said during a call with Wall Street analysts on September 1. In an appearance last week at a Goldman Sachs conference, he said little progress had been made in negotiations, leaving some observers to conclude that Charter was prepared to make good on its threat. In a note to clients published this morning, veteran analyst Craig Moffett said Charter "now has all the leverage," and stood to gain in terms of broadband capability if it abandoned bandwidth-sapping pay-TV.
Cord-cutting has been putting the squeeze on the long-established dual revenue stream from both carriage and advertising, taking a toll on both programmers and operators. Charter estimated that it would pay Disney $2.2 billion in 2023 for the rights to carry its programming. Most of those outlays, which are stepped up at regular intervals due to escalating sports rights costs, get passed on to consumers.
Must Read Stories
'Conjuring' Universe Sequel Meets Its Mark With $32M+ Opening Frame
'Poor Things' Wins Golden Lion; Sarsgaard, Spaeny Take Acting Prizes; More
Damar Hamlin Docu In Works As NFL Player Suits Up 8 Months After 'MNF' Scare
Fran Drescher Easily Re-elected SAG-AFTRA President; Joely Fisher Wins Big
Read More About:
Source: Read Full Article