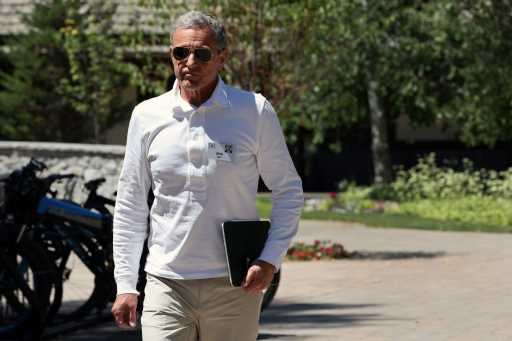 Bob Iger On Linear Television, ESPN And Disney's Streaming Pivot: "Thinking Expansively And Considering A Variety Of Strategic Options"
August 10, 2023
Disney CEO Bob Iger shook up the entertainment industry and Wall Street last month when he declared to CNBC at Sun Valley that linear television may be non-core and that he's looking for partners for ESPN as the company pivots to streaming.
He's still all in on filmed entertainment, television content studios and theme parks. But Disney could look very different when Iger exits at the end of his contract in 2026 — if he's found a successor by then. The CEO recently extended his contract and said today that's because there's much work to be done to transform the company.
Related Stories
Bob Iger Wants Strikes To End "Quickly"; Soft-Talking Disney CEO "Personally Committed" To A Deal As WGA Strike Hit 100 Days
Disney Cuts Streaming Loss, Takes $2.4B Charge For DTC Content Purge In Mixed June Quarter; Bob Iger Sees Cost Savings Topping $5.5B Target
Linear television, from ABC to FX, Freeform and National Geographic, broadly remains highly profitable for Disney today, he acknolwdged on a conference call after quaterly earnings. But "the trends being fueled by cord cutting are unmistakable. And, as I have stated before, we are thinking expansively and considering a variety of strategic options." He said the company is "fortunate to have an array of extremely productive television studios that we will rely on to continue providing exceptional content for audiences well into the future."
"We need to keep in mind the need for content to fuel our DTC businesses, notably Hulu. So anything that would be done would be with an eye to the content to fuel our growth business, and that is streaming."
On ESPN, he said Disney has "received notable interest from many entities" after putting out the call for strategic partners, and hiring former top executives (now Candle Media co-CEOs) Tom Staggs and Kevin Mayer as consultants to help. Disney would retain control of ESPN. It's looking to join forces in any or all of content, technology, marketing and distribution.
"The strategic partnerships that we are looking to create, and that we are, actually, in discussion about, are aimed at accomplishing a few things. Content, meaning increasing the content that ESPN offers. And distribution and marketing support. And it's possible that we be able to do both. And, this is all being done with an eye towards the inevitability of taking the ESPN flagship over the top," he said today.
"When we look ahead and we see a business that will primarily be a direct-to-consumer business, we obviously have an eye toward how much content do we need in order to make that a successful business? That obviously leads toward what the pricing model needs to be, and actually how much distribution support we need."
He added, "I think it's safe to assume as we ultimately turn this into a streaming business, that we believe that adding more content under economical circumstances might be a wise thing."
"We benefitted greatly from the distribution support in the old business model from cable and satellite. Obviously, when you go DTC you are doing it on your own. Or maybe not. Maybe there's an opportunity with another entity to help in that regard. So, we are basically looking quiet expansively. I must say we are quite encouraged with all the interest that we've had."
Must Read Stories
"Milestone Of Shame" For AMPTP, WGA Says; Strike's Film/TV Impact; Photos; More
SAG-AFTRA Reveals More Of Its Thinking Behind Interim Agreements Amid Strike
Cuts Streaming Loss In Q3, Takes $2.4B Charge; Iger On Strikes; Price Hikes Coming
A+E Networks Shakeup Sees Amy Winter & Tanya Lopez Exit; New Lifetime Chief Set
Read More About:
Source: Read Full Article