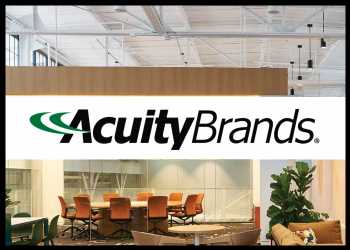 Acuity Brands Q2 Profit Tops Estimates, While Top Line Misses View
April 11, 2023
Acuity Brands, Inc., an industrial technology company, announced Tuesday higher profit and net sales in its second quarter with growth in both business segments. Adjusted earnings topped market estimates, while top line missed view.
Neil Ashe, Chairman, President and Chief Executive Officer of Acuity Brands, said, "We delivered solid performance again in the second quarter of 2023. We grew sales in both our lighting and spaces businesses, expanded adjusted operating profit, and grew adjusted diluted earnings per share. We generated strong cash flow from operations and created permanent value for shareholders through repurchases."
For the second quarter, the Atlanta, Georgia-based company's net income grew 10.5 percent to $83.2 million from last year's $75.3 million. Earnings per share were $2.57, an increase of 20.7 percent compared to $2.13 last year.
Adjusted net income was $99.0 million or $3.06 per share, compared to $91.0 million or $2.57 per share a year ago.
On average, seven analysts polled by Thomson Reuters expected earnings of $2.72 per share for the quarter. Analysts' estimates typically exclude special items.
Operating profit was $111.5 million in the second quarter, an increase of 9.0 percent from the prior year. Operating profit margin improved 50 basis points from last year to 11.8 percent.
Adjusted operating profit was $132.1 million, an increase of 7.7 percent. Adjusted operating profit as a percent of net sales was 14.0 percent, an increase of 50 basis points, compared to the prior year.
Acuity Brands Lighting and Lighting Controls or ABL segment recorded operating profit of $123.6 million, up 6.1 percent, and its margin improved 40 basis points to 13.9 percent. The segment's adjusted operating profit was $133.3 million, an increase of 5.0 percent. ABL adjusted operating margin was 15.0 percent, up 30 basis points from 14.7 percent in the prior year.
The company's adjusted EBITDA was $144.8 million, a growth of 6.5 percent from the prior year.
The company's net sales increased 3.8 percent to $943.6 million from last year's $909.1 million. Analysts expected sales of $958.47 million for the quarter.
ABL generated net sales of $890.8 million, an increase of 3.2 percent, compared to the prior year. Intelligent Spaces Group or ISG recorded net sales of $58.2 million, up 16.4 percent.
For more earnings news, earnings calendar, and earnings for stocks, visit rttnews.com.
Source: Read Full Article