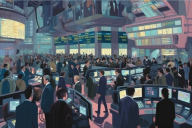 Australia's Top Stock Exchange Says No to Blockchain
May 19, 2023
The Australian Securities Exchange (ASX) drops blockchain tech in a dramatic twist to its software overhaul saga.
According to a Cointelegraph report published earlier today (May 19, 2023), the ASX has decided to discard its ambitious plans of using blockchain technology to rebuild its software platform. This marks a considerable about-face for the concept, which was once touted as a revolutionary force in the same vein as cryptocurrencies.
Apparently, the ASX had sparked frustration among market participants in November 2022 when it announced a "pause" to revamping its trading, settlement, and clearing software built on decentralized computing. An external audit found that the project needed considerable overhauling after being under development for seven years.
It seems that following the pause, ASX started looking into other options for a fresh attempt at overhauling its software, which is now over 30 years old. However, in a meeting with participants on May 17, the company reportedly stated they would not include blockchain or any other form of distributed ledger technology (DLT) in their plans.
When questioned on the approach for the upcoming attempt during the meeting, Cointelegraph quoted the project director Tim Whiteley as saying that while the exchange is exploring all options, they would likely need to resort to more conventional technology to achieve their desired outcomes.
According to Cointelegraph, this announcement marks the end of a project that was expected to become one of the most significant examples of a concept aimed at expediting online transactions through secure processing across multiple locations. ASX was gearing up to become the world's first securities exchange to incorporate blockchain technology into its core services.
Cointelegraph's report also mentioned that this endeavor was part of a partnership with the New York-based contractor Digital Asset, which was providing the technology. ASX had even bought a small stake in Digital Asset after hiring the company to rebuild its software in 2016.
During the May 17th meeting, Whiteley reportedly told participants that the ASX was moving towards finalizing a new strategy by the end of the year. Whiteley mentioned the company had sent out requests for information to potential software vendors and had requested proposals from interested parties to obtain more comprehensive feedback.
Finally, Cointelegraph's report also said that the ASX had received feedback from market participants advocating for a less risky approach, suggesting avoiding a sudden transition to new software on a specific date.
Source: Read Full Article