Schools that Excel: Sirius College's melting pot proves a recipe for success
July 18, 2021
In several ways, Sirius College is a one-of-a-kind school in Melbourne.
Its founders are Turkish (part of the global Gulen movement of schools) but most of its students are not, with many coming from families who have emigrated to Melbourne's north from south Asia, Arabia and Africa.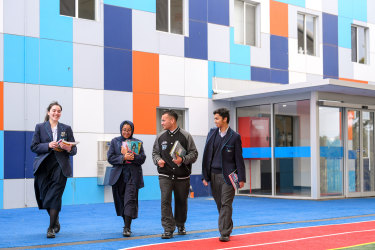 Year 12 Sirus College students Tuana Aktepe, Sumaia Khan and Sami El'Souki, and year 11 student Hamdan Yousuf.Credit:Eddie Jim
It is also firmly non-denominational, with a preference for teaching values rather than religious instruction, though the vast majority of its students are Muslim.
But the low-fee independent school's unique traits have gained it widening appeal: this year more than 3000 students are enrolled across its six campuses, making it one of the largest schools in the state.
For year-12 student Sumaia Khan, who studies at the school's Eastmeadows campus, the large melting-pot environment is also a recipe for scholarly success.
"Everyone is so like-minded," she said. "We're very culturally diverse and the environment is very positive."
VCE results at all three of Sirius' secondary campuses (two in Broadmeadows and one in Keysborough) are consistently at or above the state median. The school's strong academic focus, particularly in maths and science, is also directed towards further study, with most graduates going on to university.
It is at the Eastmeadows girls' campus where the biggest improvements have been made in recent years. Results have risen to an equal best ever median study score of 32 last year, even as COVID-19 school shutdowns created havoc in Melbourne's outer north.
Just as impressively, a record 11.6 per cent of students achieved a stellar study score of 40 or better in at least one year 12 subject, leading The Age to name Sirius' Eastmeadows campus its 2021 Schools that Excel winner for non-government schools in Melbourne's north.
You can view the full list of winning schools, and explore the data for your high school using this year's Schools that Excel dashboard:
The school's director of curriculum, Cem Giray, said there was no secret formula to its academic success, just a school culture that encouraged students to apply themselves – and celebrated them when they did well.
"Here we have a culture of high expectations, but it's not interpreted like pushing everyone to their limits or stressing them as if studying is the only option," he said.
"We promote an environment where everyone is trying to do the best that they can do. Our students are part of this culture; they love making their parents and teachers proud, so we celebrate their success."
Most Viewed in National
From our partners
Source: Read Full Article