Psaki says Biden wants schools open, but won't commit to standing up to union obstruction
February 6, 2021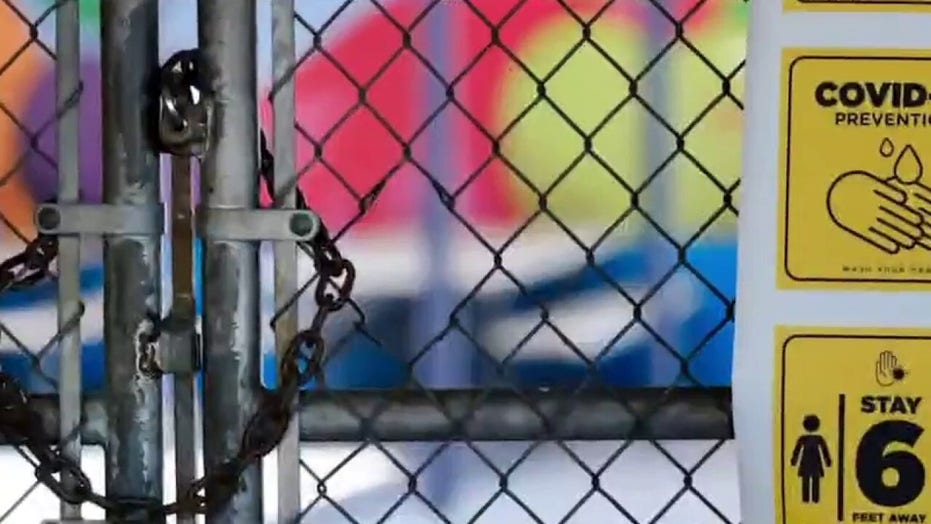 Teachers' unions not looking at the long-term picture as many schools stay shut: Cooper
Virginia is in the middle of a crisis and 'parents are the only ones who are acting like it,' Purple Strategies Managing Director Rory Cooper tells 'America's Newsroom.'
White House press secretary Jen Psaki on Thursday reiterated that President Biden wants to see children back in classrooms, but would not commit to standing up to unions if forced to choose between the prolific Democratic donors and reopening schools.
Psaki also said that Centers for Disease Control and Prevention (CDC) Director Rochelle Walensky wasn't discussing official CDC guidance but rather new data as she's repeatedly said in recent days that teachers don't need to be vaccinated for schools to reopen in person.
"Dr. Walensky spoke to this in her personal capacity. Obviously, she's the head of the CDC. But we're going to wait for the final guidance to come out so we can use that as a guide for schools around the country," Psaki said. "[Biden] believes that even with vaccinations for teachers or for any American, that there are a number of other mitigation steps that are important to take … the wearing of masks, social distancing, ventilation, these are all factors that are important for… the reopening of schools."
Walensky on Wednesday, in the same White House briefing room that Psaki spoke from Thursday, said vaccines do not appear to be necessary for schools to open in person.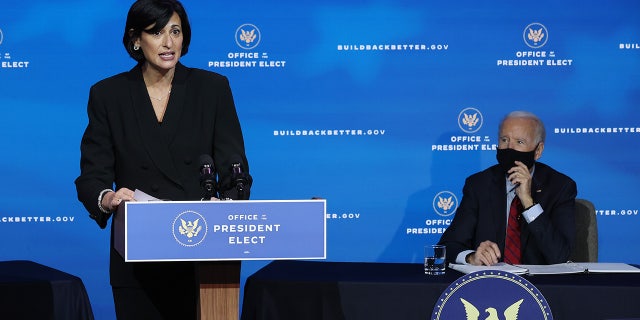 Dr. Rochelle Walensky, director of the Centers for Disease Control and Prevention, speaks during a news conference at the Queen Theater December 08, 2020 in Wilmington, Delaware. (Photo by Chip Somodevilla/Getty Images)
"I think that's a little bit unfair how you pose that question," Psaki said. "But I will say the president believes schools should be open. Teachers want schools to be open, families want schools to be open. But we want to do it safely. And I'm not sure that any parent in this country would disagree with wanting their kids to go to school in a safe environment."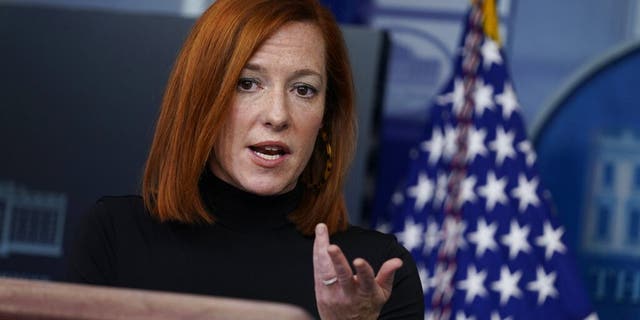 White House press secretary Jen Psaki speaks during a press briefing at the White House, Wednesday, Feb. 3, 2021, in Washington. (AP Photo/Evan Vucci)
"The president of the United States wants schools to open. He wants them to stay open. And that is key too," Psaki added. "He doesn't want them to be open for a month … he wants proper steps to be taken so that they can reopen and stay open."
Biden before assuming the presidency promised that in his first 100 days he would aim to get schools open for in-person learning. And Democrats and the White House are pushing for extra money in the latest coronavirus stimulus package to go to schools.
But unions have repeatedly rebuffed local governments' efforts to open schools. And in some cases continue to oppose opening schools even after teachers have been vaccinated.
"Having the vaccine available for teachers … does not solve all the problems," Washington Teachers' Union President Elizabeth Davis said, according to the Washington Post.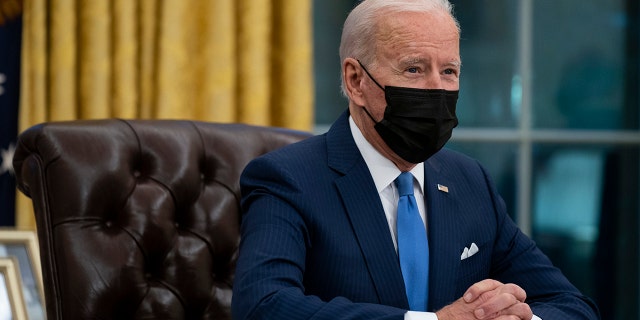 President Joe Biden delivers remarks on immigration, in the Oval Office of the White House, Tuesday, Feb. 2, 2021, in Washington. (AP Photo/Evan Vucci)
Republicans say that schools have already gotten more than enough money to reopen and that further procrastination unreasonable.
"Dr. Fauci, whose expertise was supposed to guide the Biden Administration's whole approach, said last week, quote, 'we can keep the children in school and get them back to school safely,'" Senate Minority Leader Mitch McConnell, R-Ky., said Wednesday. "Apparently Big Labor's talking points have already displaced Dr. Fauci as the White House's go-to source."
He added: "Families are losing patience with this nonsense, and fast."
McConnell's communications director, Doug Andres, weighed in on Psaki's comments on Thursday.
"Really amazing to see the White House continue to push back on the CDC director's guidance on reopening schools," Andres said in a tweet. "[T]he CDC Director has done multiple high-profile interviews. I think she's trying to deliver a message as the CDC director!!"
Source: Read Full Article