Here's Why There Won't Be a Second Presidential Debate and What You Should Watch Instead
October 15, 2020
The November election is a few short weeks away, which means it's prime presidential debate time. The first debate between Joe Biden and Donald Trump, as chaotic and unpresidential as it was, went according to plan. As did the vice presidential debate. But Trump's recent positive COVID-19 result threw a wrench into the rest of the debate schedule and made the whole election process all the more stressful and uncertain.
As you've probably heard, tonight's presidential debate was canceled. So here's everything you need to know about why there won't be a virtual showdown, how you can still hear from the candidates, and the status of the third and final debate.
What Happened to the Second Debate?
After the first presidential debate, news broke that Trump tested positive for COVID-19. Though he claimed there's nothing to fear, the pandemic has already cost more than 215,000 Americans their lives and is already impacting the election. Because Trump tested positive, the Commission on Presidential Debates announced the second debate, which was supposed to be a town hall, would be virtual. Trump then refused to partake in the virtual format and tried to push the commission to hold an in-person event once his doctor gave him the go-ahead. For safety reasons, the commission stated they would not reverse their decision. Because Trump maintained his stance that he wouldn't participate in a virtual debate, the second one is officially canceled.
What Will Replace the Debate?
As soon as Trump turned down the virtual debate, Biden scheduled his own town hall that will air on ABC News at 8 p.m. EST on Thursday and be moderated by George Stephanopoulos. At the time, Andrew Bates, a Biden spokesperson, said:
In response, Trump's campaign sought to push back the remaining two debates in hopes he would be able to debate in person despite his coronavirus diagnosis. According to CNN, Biden's team blocked that proposal, stating, "Donald Trump doesn't make the debate schedule."
Now, Trump will host his own town hall with NBC on Thursday night with Today show co-host Savannah Guthrie as the moderator. This will take place at the same time as Biden's previously scheduled event.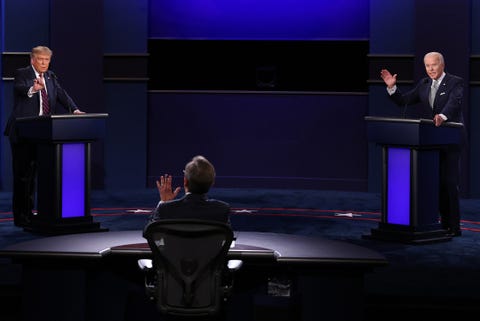 Of course, having two separate town halls poses a unique issue for voters—especially those who still haven't decided who to support. Instead of seeing both candidates interact and make their case in one TV slot, voters will have to toggle between different networks (if Trump's slot is confirmed, that is) to hear what each candidate is saying. This could result in missing key points during both town halls. (If you need to know where each candidate stands on major issues, The Washington Post has a helpful guide, as does Ballotpedia.)
What About the Last Debate?
As of now, the third and final debate is still scheduled to take place on October 22 in Nashville, Tennessee. Of course, as we've seen, that is subject to change.
Source: Read Full Article