Ethereum is Kind of Rising
February 28, 2018
Ethereum is kind of moving today. Like, a bit. The currency rose from $820 to $890 before shying away to $875 because presumably it got a bit scared of $900.
That means it now stands where it was yesterday and the few days before for pretty much most of the week, but there was movement in the meantime, it's not like nothing happened.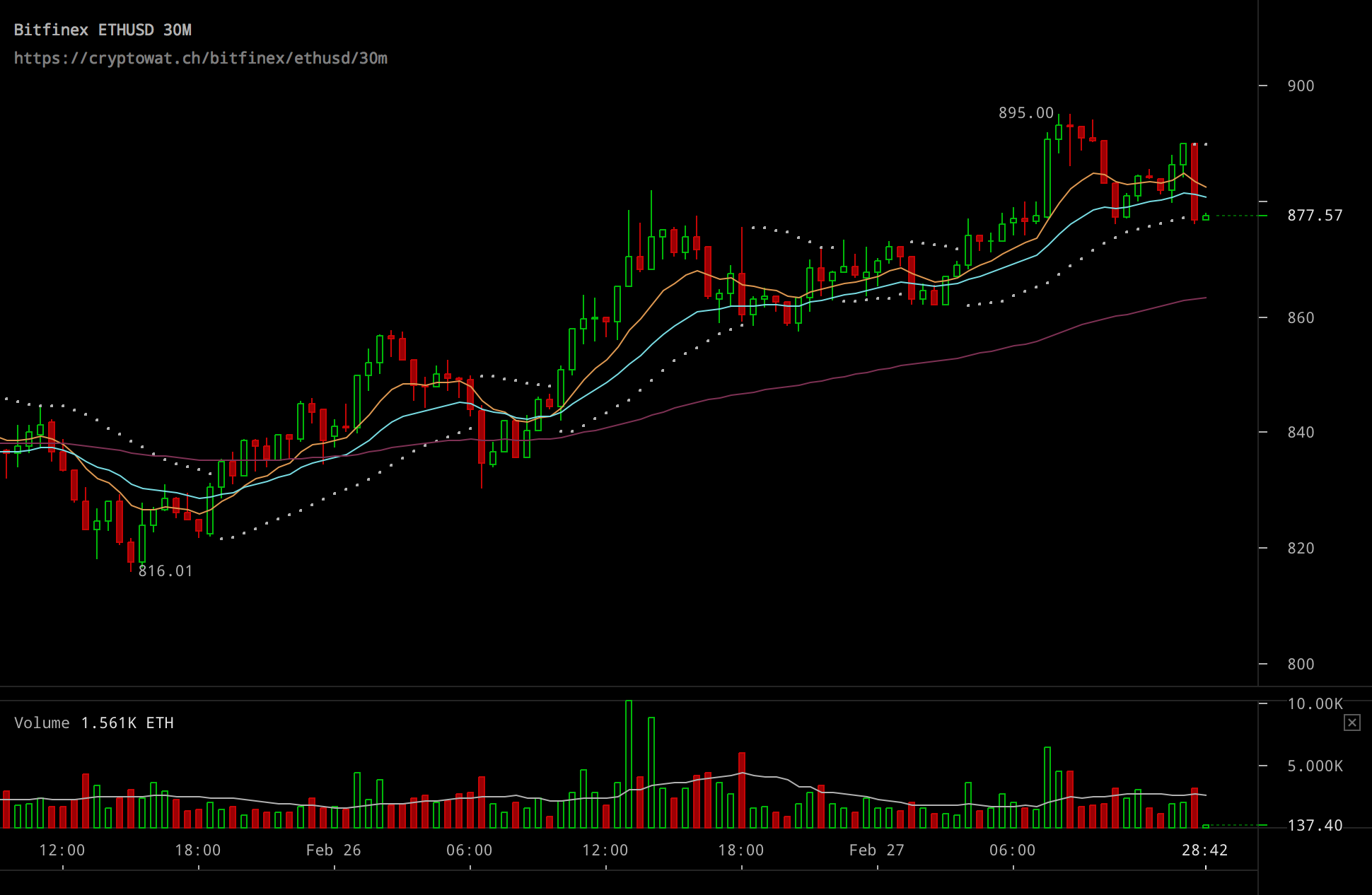 And if we zoom in for the day we can see a nice higher highs and higher lows, but if we zoom out a bit it's more of an up and down in a straight line.
That's because the market is consolidating and doesn't really know what to do. One minute it likes $900, the other minute it wants $800.
Making it a fairly relaxing trading period as you can just buy at $800 and sell at $900. That's until eth being eth makes you miss the boat or holding the bag.
The story is similar for other digital currencies, including bitcoin, but trading volumes are slightly rising, although really they are kind of the same.
It's just that finger tapping time and watching paint dry as bulls and bears eye each other in a chicken stare down with neither very sure whether they should charge.
Eventually they'll decide, but for now they are being as unsure as the weather in London where it snowed for 20 minutes, and it even settled, to then instantly present clear blue skies with sunshine.
You don't get this kind of sunshine even during summer, but it had to go and do it right when everyone was about to go play in the snow. Typical.
Eth isn't being much different really. As soon as bulls get happy for 20 minutes we get bears out to play straight away with their ping pong paddles ready.
So off to real news because nothing is happening here, but maybe soon-ish something will happen after breakouts are called for the thousandth time. Just… no poking with a stick.
Source: Read Full Article