World's First DeFi Banking App, Scallop, Innovates Crypto Payments Solutions
June 11, 2021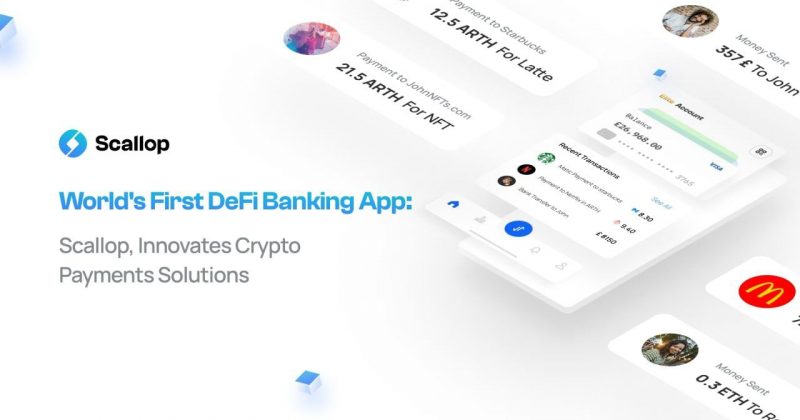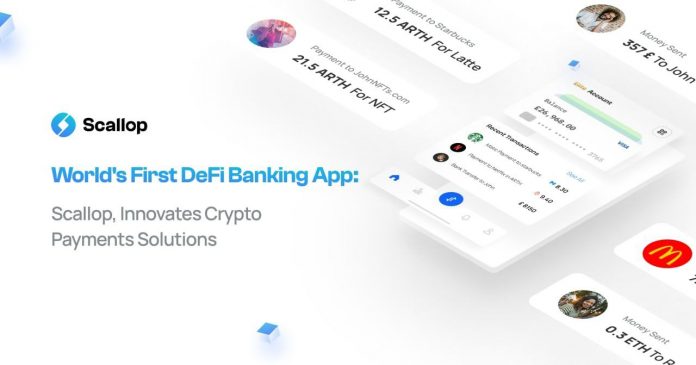 "Money is entering a format war", wrote Citigroup, in their latest Future of Money report, and this is creating both challenges and opportunity for companies in the payments sphere. The evolution of cryptocurrencies, digital wallets, challenger banks, stablecoins, CBDCs, DeFi protocols and other blockchain-focused payment platforms has opened the doors for forward-thinking companies – old and new – to disrupt the digital payment space.
Giants such as PayPal and Mastercard are adapting to the digital age by offering cryptocurrencies such as Bitcoin, Ethereum and Litecoin on their networks. Paypal went a step further and recently updated their wallets to allow cryptocurrency withdrawals to third-parties. They also confirmed in the last month the acquisition of crypto security company Curv for $200m, showing their strong intent in the sector.
Despite the financial regression caused by the global pandemic, venture capital continues to pour heavily into fintechs looking to make a mark in the payment space.
One such company that has gained a lot of traction recently is Scallop – the 'World's First DeFi Powered Neobank'. Their captivating claim lies in their offering of DeFi protocols such as Compound, Aave and dYdX (to name a few) directly on their platform, allowing seamless interaction with either fiat or cryptocurrency. With a Scallop Banking Account, you can access 'Scallop Earn' which offers typical DeFi yields of 6-15% on savings – all from a single app.
It's not just DeFi that Scallop is bringing to the payment party. Their vision is to establish an ecosystem in which cryptocurrency users can use their digital assets freely without any of the obstacles that currently hinder their adoption and usage – such as the time consumption of selling your crypto to fiat ready for use in the real world. Scallop Pay allows users to purchase goods and services directly with cryptocurrency, for the very first time. 
The complete suite of products include:
Scallop Earn, Scallop NFTs, Scallop Banking Accounts, Scallop Cards, Scallop Pay, Scallop Multi-Currency Wallets, Scallop Money Transfer, Scallop Exchange, Scallop Cold Wallet, Scallop Chain
Scallop Pay
Notably, Scallop Pay is a first of its kind solution, which will allow users to pay for goods and services directly with crypto or De-Fi liquidity pool (LP) tokens – regardless of whether the vendor accepts cryptocurrency as payments. Scallops innovative backend technology processes each part of the conversion transaction behind the scenes, allowing the user to pay with crypto and the shop or business to receive fiat. Therefore, users can access their tokens anywhere in the world and use them instantaneously.
Scallop Pay is the first regulated solution to simplify day-to-day payment activities using cryptocurrencies.
The users can avail themselves with virtual or physical debit cards from Scallop to perform all the transactions. These cards work in the same way as other fiat debit cards and can be used in any card machine. Cards can also be used for:
Scallop banking accounts support Instant SEPA, SWIFT services, and faster payment and funds transfer in and out of the accounts. 

Easy integration with centralized payment networks such as FPS, SEPA, NEFT, ACH, Wire, SWIFT, RTGS, etc. 

Scallop banking accounts support several cryptocurrencies such as Bitcoin, Litecoin, Ethereum, Tether, SCLP, and ARTH for transactions and trading. 

Environmentally friendly, Titanium metal cards for Elite members.
Precedent is Set
We've seen startups transform industries and giants fall – as the disruptors, with their new technology, take their place. However, the main hurdle for crypto startups at the moment is trust and in the global payments space, crypto startups may just gain it from an unlikely source – established companies moving into crypto. 
For the consumer, the incumbent giants like PayPal represent trust and familiarity. By adopting the latest tech themselves, they have not only kept themselves in the game but paved the way for newcomers to play too. Bundling cryptocurrencies and DeFi into a neobank is an incredibly timely solution from Scallop. It is representative of where money is flowing into in today's market, and where household names such as PayPal are doubling down on for the future. 
Source: Read Full Article