SHIBA INU Price Plummets Over 15% Today, Kraken Delays Listing
November 5, 2021
Shiba Inu ($SHIB) registered a 15% drop in price today amid FUD regarding a Shiba Inu whale moving almost $3 billion in tokens.
Contents
1 Why Is SHIB's price dropping?
2 Shiba Inu News
3 Shiba Inu Robinhood Change.org Petition
4 Shiba Inu Cryptocurrency Price
Why Is SHIB's price dropping?
$SHIB registered a 25% price drop in the past week. One reason might be due to the $8b Shiba Inu whale moving almost $3b in tokens to freshly created accounts.

Since then, there has been no activity associated with each of the 4 accounts that received the $SHIB that suggests the whale is looking to unload anytime soon.

While there are a few dozen token deposits to the whale's addresses, those look like random donations. After all, everyone is watching those addresses for any outgoing activity so it's a way to get noticed.
Another reason for $SHIB's recent price collapse, is due to Kraken's response on twitter in regards to a potential Shiba Inu listing.
While Kraken didn't explicitly deny the listing, they said that
"Community is an important part of our considerations for all listings, and you have clearly shown your support.

There's more work for us to do as we move through our listing review process."
It's unclear what work needs to be done on Kraken's end, and unfortunate that the exchange couldn't yet confirm a listing.
Shiba Inu News
When it comes to recent news, MarketWatch reported that KuCoin's CEO, Johnny Lyu is ready to hold $SHIB for the long term, along with Bitcoin and Dogecoin.
KuCoin is one of the largest cryptocurrency exchanges with a 24 hour trading volume of over $3.8b. It's one of the most popular exchanges on the market with over 2.2 million weekly visits.
Shiba Inu Robinhood Change.org Petition
In other news, Shiba Inu's change.org petition to request Robinhood to list Shiba Inu has been crashing the site and almost reached the full 500,000 signatures.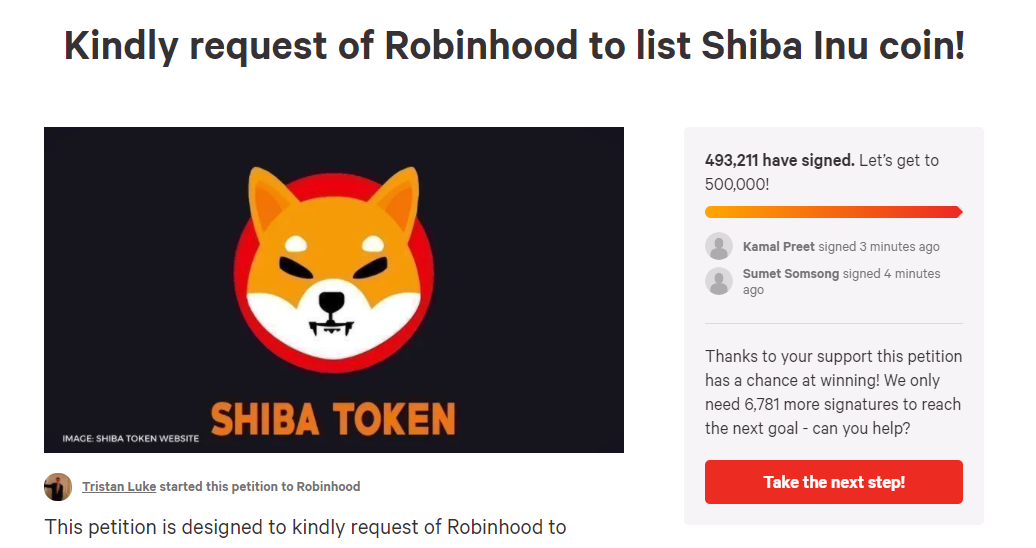 Whether Shiba Inu will be listed on Robinhood is not clear. Fortune reported last week about some of the reasons why Shiba Inu might not get added to Robinhood.
In an interview with Fortune, Robinhood's CEO Vlad Tenev said:
"we're having to carefully evaluate whether we can add new coins in a way that's safe for customers and in line with regulatory requirements"
Another problem mentioned by Vlad was the volatility of the $SHIB market which can cause liquidity problems for the platform and huge short-term losses for its traders.
Shiba Inu Cryptocurrency Price
At the time of writing, SHIBA INU is the top 11 coin based on market cap, boasting over $11b in trading volume in the past 24 hours.

While the past week has been rough for Shiba Inu, it's still the top 4 cryptocurrency by trading volume. This means there's lots of support and hype still surrounding this project and it's not going anywhere anytime soon!
Follow us on twitter @nulltxnews to stay up to date with the latest cryptocurrency news!
Originally Published on The VR Soldier
Source: Read Full Article