Daniel Fraga – The Brazilian Bitcoin (BTC) Billionaire Who Defied the Government and Disappeared
May 27, 2022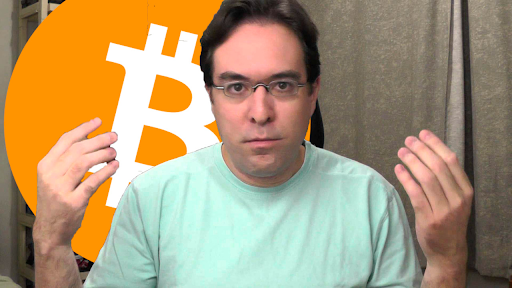 Get to know the story of possible billionaire Daniel Fraga, one of the first people to talk about Bitcoin (BTC) in Brazil –the man who defied the state and disappeared–. This story was shared by the Brazilian media outlet Boletim Bitcoin.
Contents
1 Fraga's Story
2 Daniel Fraga and the Fight Against the State
3 "You Work for the Mafia?"
4 Daniel Fraga and Bitcoin (BTC)
Fraga's Story
Daniel Fraga's public story began in the year 2010 when he started posting the first videos on his YouTube channel.
Initially, Daniel didn't show his face, and his videos were aimed at exposing the neglect of his city's city hall, showing potholed streets, garbage on sidewalks, and wrong traffic signs.
Around June 2010, Fraga began speaking publicly against state agents. In one video, he criticized the city mayor at the time, Gilberto Kassab, because of the city government's neglect.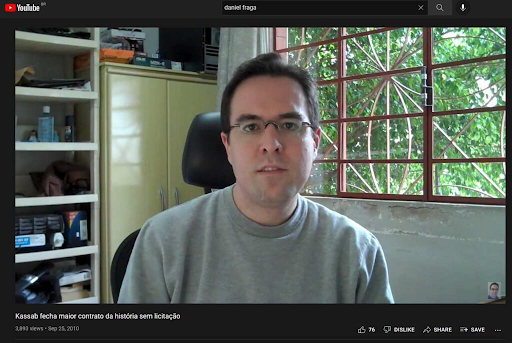 Daniel Fraga was probably the first person on Brazilian Youtube to actively talk about libertarianism and anarcho-capitalism, political ideologies that value respect for private property, individual freedom, and the non-use of coercion.
By defending his ideology, Fraga influenced the creation of a movement that has become relatively popular in Brazil, especially among younger people. Kim Kataguiri, one of the youngest elected deputies in Brazilian history, stated that Fraga influenced him in his liberal ideas during an episode on the Flow Podcast.
-I started making the videos by watching Daniel Fraga, who was a libertarian. – Kim
-How effed up is Daniel Fraga -Igor
-Do you know Daniel Fraga? – Kim
-Of course, are you kidding? – Igor
-This guy is like a hero because he stood up to the state in a certain way – Monark
Because he fought against the Brazilian state, Fraga has become a legend of the internet, the Brazilian libertarian community, and Bitcoin (BTC).
Around 2012, Daniel Fraga posted the first video about Bitcoin on Brazilian Youtube with the title: "Bitcoin is better than the dollar", where he described the superior characteristics of the crypto asset.
Reports further point out that Fraga had been talking about Bitcoin in forums since 2011. The cryptocurrency played an important role in his story and was a key tool in challenging Brazilian justice.
Daniel Fraga and the Fight Against the State
In March 2012, Fraga posted a video commenting on the case of journalist Ricardo Gama, a lawyer who was indicted for libel and sentenced to pay a fine of R$10,000 for speeches related to a congressman from Rio de Janeiro.
It was then that Congresswoman Cidinha Campos, an MP at the time, made a series of offenses and accusations against the journalist, who had been the victim of attempted murder. In a video, Ricardo Gama answered the accusations, which Cidinha Campos used to sue him.
It was then that Fraga made a video response, calling Cidinha a "tramp" and a "parasite."

"Why this congresswoman, who is a real s***, yes, and if she wants she can sue me too […]."
And this is where Daniel Fraga's first legal battle against Cidinha Campos and the Brazilian state began. Daniel went on to expose the details of the lawsuit and continued to criticize politicians and public employees.
After having some memes and publications censored for criticizing a São José dos Campos mayoral candidate, Fraga also started criticizing the judiciary for censoring his content, highlighting the lack of legality and respect for freedom of expression in the country.
It was then that Fraga was also sued by a judge, who asked for the removal of his videos from the internet. The judge imposed a fine of R$40,000 per day. Daniel then asked his subscribers to download his videos and make them available on other platforms so that they would not be censored.
On one occasion, Fraga even launched a challenge where he would raffle off 1 Bitcoin to channels that posted videos criticizing Congresswoman Cidinha Campos.
"People, for those who are following the channel, you know that I am being sued by state representative Cidinha Campos, from Rio de Janeiro, where I was practically threatened to have to pay a fine of 50,000 Reais if I don't remove my videos. I will not remove anything and I will not pay anything. What I will do is cause political damage to her candidacy. […]
I'm going to launch a contest, or rather a challenge. I challenge anyone from any channel to make a video against Cidinha Campos and against her censorship." – According to the Boletim BTC.
For failing to remove the videos, which still remain on Youtube, the lawsuit filed by the judge was dismissed.
"You Work for the Mafia?"
After another lawsuit filed by Cidinha Campos with an exorbitant fine, Fraga persisted by claiming that he would pay nothing and that all his assets were in Bitcoin (BTC), this still in 2014.
On one occasion, Fraga filmed two state agents who went to hand him a court summons, which became one of his most viewed videos on Youtube.
-I'm in my house, what's the problem?

-Daniel, it's just a subpoena for you.
-No, you play the subpoena, I can ignore it.
-Are you going to get it or not?
-No, I'm not getting anything.
"Send it to the judge, man. That's your job. I'm telling you, you work for the mafia, a state mafia, to coerce peaceful people […] Look, gun in hand, gun in hand.
"I think that this way you will better understand what I am talking about here, when I speak against the state. Did you see the arrogance of the guy? The guy is paid with money taken out of his pocket, that is, through taxes, theft. […] Nazi* soldiers were also performing their work."
After that, the judge got authorization to access Daniel Fraga's bank account. Upon accessing his account, a total of R$5.26 was found. Daniel stated that he left just enough money for the maintenance of the account so that justice would have trouble accessing it and find nothing.
"These 5 reais I'll give in charity to Representative Cidinha Campos." – Fraga said.
Daniel Fraga posted a few more videos and disappeared without telling the reason. His last video was posted in 2017 showing a UFO that was supposedly recorded in Ribeirao Preto (SP).
Despite his disappearance, reports and evidence point out that Daniel Fraga is alive and well, appearing sporadically in discussion forums, and changing the description of some videos on his channel.
Daniel Fraga and Bitcoin (BTC)
Daniel Fraga has certainly influenced millions of people in Brazil, both in the libertarian community and in Bitcoin. But despite probably making a fortune with the crypto active, Fraga was one of the people to support the Bitcoin Cash (BCH) hard fork.

Apparently, Daniel still supports the thesis that the original Bitcoin is developing as a store of value, but that BCH is a better alternative for payment systems.
However, it is not known how much Daniel exposed himself to BCH, or even if he even converted his BTC on the hard fork.
Source: Read Full Article