Bitcoin Transaction Volumes Fall to Lowest Level in Two Years
February 20, 2018
Demand for bitcoin transactions has considerably fallen since the beginning of the year to a low of 149,000 transactions, just around 25% of the all-time high at 490,000.
The network's congestion has now pretty much cleared, although there are still some 8,000 transactions waiting to move, far lower than the highs of 300,000.
Fees have fallen too from their highs of around $70, but they still stand at a relatively high $2 per transaction, far more than eth's fees of two cents or so.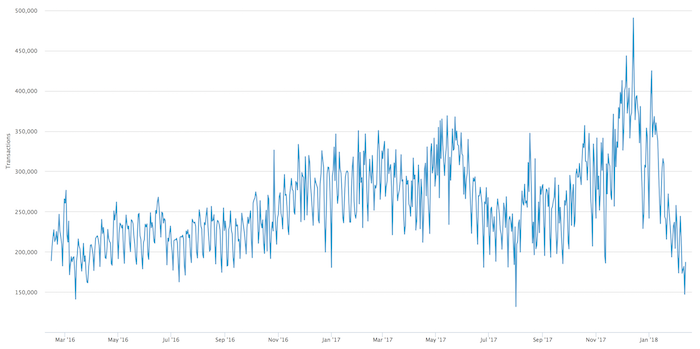 Bitcoin has not been operating at the current level of demand since November 2015, a significant drop in just week.
During the same period price has fallen by nearly just as much percentage wise, but considering bitcoin's price in 2015, it might also be the case fewer businesses or projects are now using BTC, suggesting recent transaction demand has been more due to price speculation.
Although another reason might be a more efficient use of the blockchain, with some exchanges trying to group transactions through batching.
And it isn't just bitcoin that has seen a lower level of transaction demand. Ethereum has too, albeit in a far less pronounced manner.

Ethereum transacting demand is at where it was just this December, falling from the high of 1.3 million to now at around 800,000.
Price has fallen too at the same time, but less than bitcoin, down from $1,400 to $850 compared to btc's fall from $20,000 to $8,500.
Ethereum, therefore, has not halved in price, while bitcoin is down some 60% and was down 75% at its lowest recent price of $5,500.
Ethereum's transaction demand has not halved either, while bitcoin's is down by around the same percentage point as the price, so suggesting a clear correlation between price and transaction demand in line with Metcalfe's law of network effects.
More importantly, even though bitcoin's transaction levels are now to where they were in 2015, fees for bitcoin transactions are far higher, standing at pennies or less in 2015 and now at $2.
While ethereum, despite handling some 5x-7x the transaction level of bitcoin, still retains fees at cents, even while its blocksize is around the same 1MB per ten minutes as bitcoin, suggesting superior coding ability.
This cyclical fall in on-chain transactions demand does raise questions about the "fee market" in bitcoin, which requires a constant backlog and a heavily congested network to operate.
That's because the second settlement layer is meant to pay for one transaction what millions of on-chain transactions would pay. But, in the absence of heavy congestion, there would be no demand for such high fees.
Whether this settlement layer can work, therefore, remains very much an open question, with the Lightning Network still in development, lacking a GUI wallet.
When it will actually release remains to be seen, but once it does, we can all finally determine whether any of this new settlement system makes much sense.
Source: Read Full Article
….