Tractor sales remain strong in August
September 2, 2020
Increase in kharif sowing area, good monsoon, rural cash flows and base effect among factors that have driven volumes.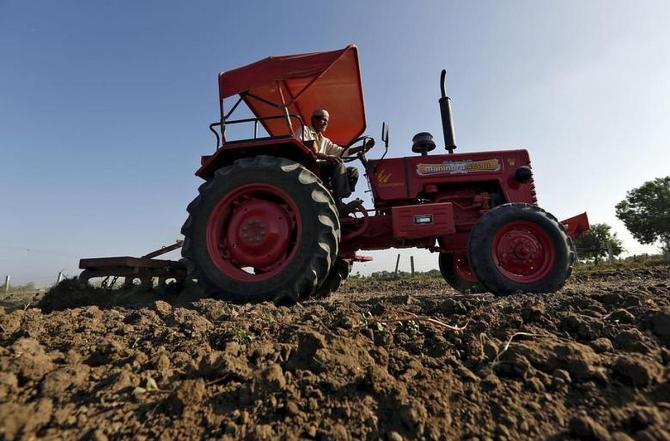 Tractor sales continued their strong momentum in August, driven primarily by the positive sentiment, increase in kharif sowing area, good monsoon, strong rural cash flows, and base effect.
Tractor makers, except Escorts, Mahindra & Mahindra (M&M), and Sonalika, are yet to publish their numbers for August.
However, T R Kesavan, president of the Tractor and Mechanization Association, estimates 70 per cent growth in overall sales in August, from the 37,050 units in August 2019.
Escorts and M&M – the top two tractor manufacturers – reported 80 per cent and 69 per cent growth for the month, respectively. Sonalika recorded an 80 per cent rise.
Escorts reported a 79.4 per cent rise in domestic sales to 6,750 units, from 3,763 year-on- year, while exports rose 90.4 per cent to 518 units from 272.
Month-on-month volumes rose 36.6 per cent.
"We are operating at close to peak capacity now. We managed to build inventory – both at dealers and depots," said the statement.
M&M's farm equipment sector (FES) recorded 69 per cent increase in domestic tractor sales in August to 23,503 units, compared to 13,871 in August 2019. Total tractor sales (domestic and exports) stood at 24,458 units, against 14,817 for the same period last year.
Hemant Sikka, president (FES) at M&M, said after clocking its highest-ever sales in July, the firm repeated the feat in August.
Growth in the tractor industry remains strong in August.
The increase in kharif sowing indicates a bumper harvest, which, in addition to the good monsoon and strong cash flows, has kept the mood upbeat.
Meanwhile, Sonalika registered its highest ever domestic growth of 80 per cent to 8,205 tractors, against 4,560 last year.
Raman Mittal, executive director of Sonalika Group, said: "Demand will remain healthy, aided by higher kharif sowing (8 per cent) and good monsoon (1 per cent higher rainfall vis-à-vis normal levels), along with increasing preference of farmers towards mechanisation.
"Penetration of mechanisation is at an average of 45 per cent for the entire crop cycle.
"With Paddy being the major Kharif crop, there has been a demand hike for customised tractors."
Mittal is upbeat for the festive season.
Photograph: Amit Dave/Reuters
Source: Read Full Article