'The contraction in GDP is the result of COVID-19 and the lockdown'
September 1, 2020
'Eventually, when the pandemic is behind us, demand will limp back.'
'That's because there is enough money lying in the system, in the hands of people.'
The Indian economy has contracted by a shocking 23.9%!
Profssor Ananth Narayan, a faculty member at the S P Jain Institute of Management and Research in Mumbai, is the RBI nominee director on the Yes Bank board.
"If you look at money supply M3, which is the total amount of currency in circulation and the total amount of deposits lying with banks, they are growing by almost 13% year on year. And this is happening at a time when GDP is contracting. It means the actual amount of money lying with people is growing. It also means once the medical crisis is over, people will start spending," Professor Narayan, below, tells Shobha Warrier/Rediff.com. The first of a two-part interview:
Were we on a slowdown path even before the coronavirus pandemic?
Or is it because the measures taken by the government to tide over the crisis were inadequate and insufficient that the economy is experiencing a contraction of this magnitude?
It is true that our economy was slowing down and was in a weak state even before COVID-19 hit us. But the contraction in GDP both for this quarter as well as the full financial year is largely the result of COVID-19, including the lockdown.
And India had a fairly strong lockdown. In comparison to the strenuity of the lockdown, our fiscal relief package also was limited because we don't have the luxury the developed economies have.
So, a combination of these two have caused an immediate contraction.
I fear we will see a double-digit contraction in GDP in the full year FY21. While this entails deep and immediate distress, our economy can still recover well from this, eventually.
Why do you think the Rs 20 lakh crore stimulus package did not have any impact on the economy?
When the lockdown started on March 25, practically 65% of the economy shut down. Till April 20, the economy was in that state. Even now, it doesn't feel like more than 85% of the economy is operating.
Think of the impact. We have four months of the fiscal already gone by. It means one-third of the full year is gone with much reduced economic activity.
We know that a large part of the economy, particularly aviation, tourism, hospitality, transport, real estate, construction, anything to do with discretionary spending and MSMEs, were badly impacted.
Let's say if for one-third of the year, one-third of the economy was not functioning, it is a contraction of 11% for the full year! So, mathematically we are looking at a very large contraction.
It doesn't feel that the economy will recover to 100% anytime soon because the impact of the lockdown is still being felt.
It is not that the entire economy is in a bad shape. Agriculture is doing very well, as is healthcare and pharma.
The rural economy on the whole is much less impacted by the pandemic than the urban economy.
But the extent and impact of the shutdown is so tremendous that no amount of government package can truly alleviate it.
Regarding the Rs 20 lakh crore package, much of it was a liquidity package, rather than true relief.
The actual relief in terms of what was made fiscally available was around 1.5% of GDP.
There has been good work as far as people's front has been concerned. There was a humanitarian crisis to start with, but thereafter, relief came by eventually.
Both central and state governments significantly stepped up use of schemes like MNREGA and activated the PMGKY.
MNREGA spend this year has already amounted to the spending of the full year last year.
Of course, MNREGA pays much lower than what cities offered workers. But at least, some job was made available. Because the FCI had procured record level of food grains from farmers, food security has been provided to all till November.
The genuine shortfall in relief even today is relief for businesses, particularly for MSMEs.
Giving a Rs 3 lakh crore of funding line for MSMEs is lending money to businesses that do not have any sales and are suffering from a strained bottom line.
When you have cash losses, giving loans alone will not help.
A lot of MSMEs are struggling even today. Reports suggest that many of them will not survive the pandemic. I don't think the relief given to them is enough at all.
It is said that when liquidity is not the issue, banks offering loans without collateral is not going to help as the struggling MSMEs are not going to invest more when there is no demand in the market. Do you think so?
Yes, there is enough liquidity.
What businesses require right now is some kind of bottom line relief. They have severe cash losses, and their sales have come down sharply in many cases.
Many of them still have people costs, rental costs and interest costs which means in the last 4-5 months, they are enduring severe losses.
Now, giving liquidity and loan to cover the cash flow problem is not sufficient because you are essentially increasing the debt of many of these companies. And they might not be able to bear the burden.
Who will use the loan to invest when the inventories have piled up?
There is no question of investing at all. It is currently all about survival.
Some of the companies are running good businesses, but once the pandemic is gone after a year or two, they will be overburdened with so much of debt because of the shutdown, and hence may not survive at all.
So, what they need is some kind of bottom line relief.
What kind of relief should be given so that at least the good businesses survive?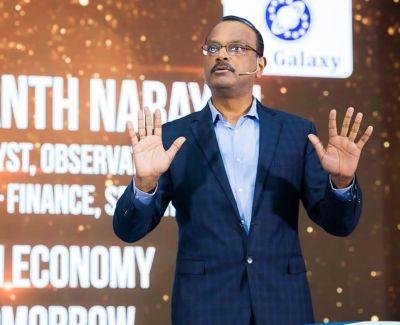 There is plenty which can be done.
I will give you an example. The total loans of MSMEs across banks and NBFCs is around Rs 20 lakh crores. So, one thing that can be done is, giving them interest subvention completely.
Let's say that at 12% per annum, the interest they have to pay for Rs 20 lakh crores is Rs.2.4 lakh crore for the full year, or Rs 1.2 lakh crores for six months.
What the government can do is, it can pay the entire Rs 1.2 lakh crores on behalf of the MSMEs.
The fiscal package can be like the government paying half year's interest which the MSME has to pay. Rs 1.2 lakh crore is 0.6% of the GDP.
It is a small fiscal burden, but totally worth it, in terms of the relief it offers to the economy.
Because you are giving this to all MSMEs, you will not be accused of being a 'Suit Boot ki Sarkar'!
And not impacting the NPA of the banks…
Yes, not impacting the banks also. Even if it helps those that don't really need the help, it would increase bank or MSME profits, and a part of that will come back as taxes.
Relief of this sort, that is, giving them interest relief, which gives them cash in hand, not as loan but as handout, will be very useful.
Even before the pandemic, it was said that a lack of demand in the market was the reason behind the sluggish economy. Now, many experts suggest that direct cash transfer can create demand. Do you think so?
Two thoughts around this. First, on the timing of a demand stimulus. Second, on what needs to accompany any demand stimulus.
I think there is a problem with attempting demand stimulation at a time like this, when the pandemic is still underway.
Why is there no demand? Why has consumption fallen off the cliff?
Because of the pandemic we are not going out, traveling, shopping, watching movies or indulging in discretionary spending.
We are only spending on essentials. Even if we are given extra money now, we will not go and spend, we will just leave the money in the bank.
The CEA has been saying the Jan Dhan accounts have lots of money, but people are not spending it.
The primary problem is, we need to get over with the pandemic health hazard for people to go out and start consuming.
Eventually, when the pandemic is behind us, demand will limp back anyway. That's because there is enough money lying in the system, in the hands of people.
If you look at money supply M3, which is the total amount of currency in circulation and the total amount of deposits lying with banks, they are growing by almost 13% year on year. And this is happening at a time when GDP is contracting.
It means the actual amount of money lying with people is growing.
It also means once the medical crisis is over, people will start spending.
Source: Read Full Article