Prices of tomatoes, onions and potatoes to remain benign
August 24, 2021
Several experts are of the view that inflationary pressure, including that in food items, may build from October with economic activity gathering steam.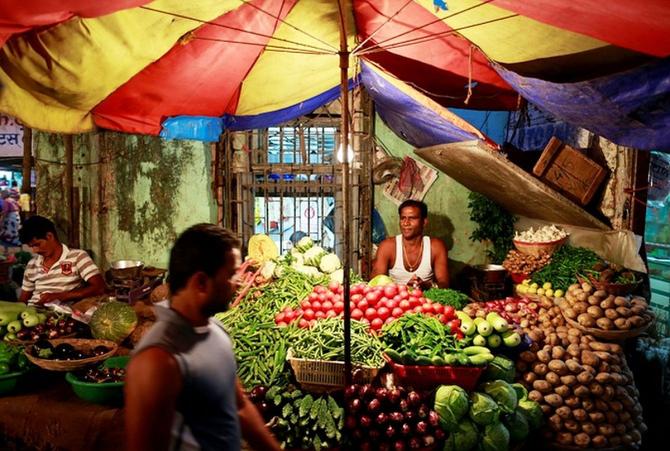 However, the price movement in three key items of tomato, onions and potatoes, commonly known as TOP, may give some solace in the months to come.
Traders and market watchers said the price movement in all the three will remain within the band sans any unusual spikes.
The spike occur because of multiple reasons, the main being adequate stock with private traders and government warehouses in case of onions and potatoes and also new crop arrivals in the coming few months.
Onions
In TOP, onion is perhaps one of the most volatile of the three commodities and any sharp spike or drop in price triggers massive reactions elsewhere.
Being a key staple food for millions of Indian families, onion price movements have a direct bearing on the household budget of many in the country.
Onion prices at present in the retail markets of Delhi are at around Rs 32-33 per kilogram as per the data sourced from the department of consumer affairs.
In the benchmark, wholesale markets of Lasalgaon in Maharashtra, the prices are in the range of Rs 8-19 per kilogram depending upon the quality.
Trade and market experts said that in Lasalgaon, onion prices are expected to be around Rs 16-24 pe kg till October, while in the retail markets, they are likely to hover around Rs 20-40 per kg for the next few weeks.
As per the second advanced estimate of horticulture production, onion production in 2020-21 (July to June) is expected to be 26.92 million tonnes which is 3.18 per cent more than last year.
Traders said prices are down this year as compared to the same period last year as unlike 2021 farmers and traders haven't liquidated their main rabi crop in a hurry.
Onion is mainly cultivated thrice in India.
The first is kharif crop which is planted between July and August and harvested in October-December.
Then, there is the late kharif crop, which is planted between October-November and harvested in January-March and finally, there is the rabi crop planted between December-January and harvested in March-May.
Among the three crops, rabi is by far the biggest of all, contributing more than 65 per cent of the country's total onion output.
More importantly, rabi onion crops is storable and because of its this characteristic it fulfills the demand till October.
"After burning their figures with dirt cheap prices last year, farmers haven't sold their full rabi crop in anticipation of higher prices this year, which is why prices haven't moved up by much and only very early into the season there was some upward movement and prices in wholesale markets had touched Rs 17-18 per kg," Surinder Budhiraja, a trader in Delhi's Azadpur mandi told Business Standard.
He said almost 70 per cent of the onions is stocked with private traders which is estimated to be around 1.4-1.5 million tonnes, while state-run Nafed has also built an onion stock of its own of around 0.2 million tonnes.
"That apart, a little over two months is left for the next new onion crop (kharif) to hit the markets which will further pull down prices," Budhiraja said.
However, he cautioned that there could be minor spike in prices if the standing kharif crop gets somehow damaged due to excess rains.
"Only, then can expect a spike in prices which otherwise will remain range-bound with a tendency to be on the weaker side," he added.
Potatoes
Just like in onions, potatoe prices are also expected to be stable in the coming months due to excess stocks in warehouses.
"Just around 20-25 per cent of the potato crop has been sold so far while the rest of the crop is stored in warehouses which will be sufficient to manage the next 2-3 months," another trader said.
The new potato crop will start arriving from Punjab around October 15 till which time, stocks will meet the demand.
Already, fresh arrivals have started from Hasan district in Karnataka in many markets but incessant rains and floods have hampered some release of stored potatoes from warehouses, trade sources said.
Potatoes, are harvested multiple times in a year in India depending upon the region where it is cultivated.
According to some estimates, in the hills of Himachal Pradesh and Uttar Pradesh, the spring potato crop is sown from January-February while the summer crop is sown in the month of May.
In plains of Haryana, Punjab, Uttar Pradesh, Bihar and West Bengal spring crop is sown in January while the main crop in the 1st week of October.
In the states of Madhya Pradesh, Maharashtra and Karnataka the kharif crop is sown by end of June while rabi crop is sown from mid of October-November.
India's potato output in 2020-21 is projected at 53.69 million tonnes which is 10.56 per cent more than last year.
"The retail price of potatoes in most parts of the country is expected to be in the range of Rs 20-40 per kg in the coming weeks," the trader said.
He expects wholesale potato prices in Agra to be around 10-15 per kg by end October.
Tomatoes
The third crop, whose price movement is keenly watched and has a direct bearing on household budgets, is tomatoes.
In the last few weeks till early August, tomato prices in several markets across India had risen due to drop in arrivals.
The current months are usually considered lean season for tomato production in India.
According to some reports, tomatoes are majorly grown in two seasons in India which is from June to September (kharif season) and from October to February (Rabi season), although due to growing demand in some regions, the crop is cultivated all through the year.
According to the second advanced estimate, tomato production in India is estimated at 21 million tonnes in 2020-21, which is 2.18 per cent higher than last year.
Trade sources said retail price of tomatoes are expected to be around Rs 20-50 per kilogram in the coming weeks in most parts of the country while the wholesale price in the main markets are expected to be around Rs 28-34 per kg by end October.
Photograph: Danish Siddiqui/Reuters
Source: Read Full Article