Bitcoin Rallying Above $4,000 Could be Due to Bitmex Futures: Analyst
March 17, 2019
There is a noticeable correlation between Bitcoin's latest jump and Bitmex Futures, believes Luke Martin.
The renowned cryptocurrency analyst said Thursday that Bitcoin price moved north right after Bitmex launched its September futures, XBTU19. Martin noted that the bitcoin market underwent a jump in volume and volatility after the XBTU19 went live. He also identified two similar events in the past in which the beginning of new futures contracts coincided with increased volatility and volume in the Bitcoin market.
Bitmex Futures and Bitcoin Price | Source: Luke Martin
Martin referred to a Bitmex June Futures contract (XBTM19) which went live on December 18, 2018. The bitcoin price rallied up to 34 percent after the futures trading began. In the same month, on 27, other Bitmex futures (XBZ18) expired. Soon after the expiry, the bitcoin price jumped 8 percent.
Marting considered those two events as pieces of evidence for a third-possible rally. On Wednesday, the crypto-analyst wrote that while he wasn't sure about a rally, it was "reasonable to expect a higher chance of volatility and volume."
Bitmex September 2019 Futures Launch
Bitmex XBTU19 started trading Friday. A day later, bitcoin price jumped above $4,000.
Bitcoin Price Jumped Above $4,000-Resistance on Saturday | Source: Bitfinex
"BTC move started right after new Bitmex quarterlies started trading," Martin tweeted. "Identical pattern to the previous two events highlighted in the thread. Mark this on your calendars going forward as it's clearly an event the market is paying attention to. Beautiful."
BTCVIX Criticism
BTCVIX, a popular crypto Twitterati, criticized Martin's analysis for using just two data points: June Futures expiry and December Futures open. The critic also noted that Bitmex bitcoin futures lacked substantial volume to have such a significant impact on bitcoin spot markets. At just 25-30 orders, there was no way bitmex futures traders could have fueled the bitcoin demand across exchanges.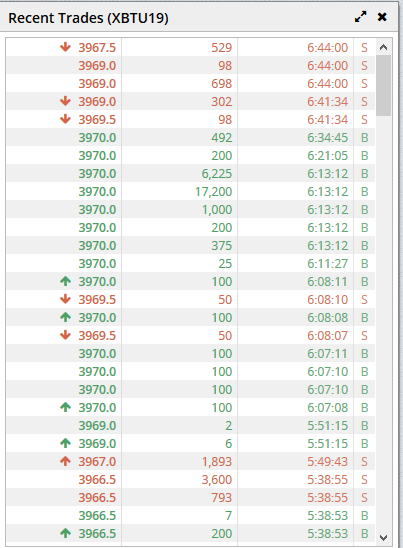 Source: Twitter
"First of all you have literally [two] data points lol — and no one even trades that contract — I am looking at the time and sales right now and there [are] 25-30 orders in the last hour totaling not even $50,000 — your argument is complete shit."
Martin held his guard, arguing that his analysis was more about spot traders' psychological reaction to Bitmex futures contracts.
"It has nothing to do with volume or price of that contract," he explained. "It's how spot price, volume, and volatility reacted to a new bitmex contract beginning to trade. Exact same pattern for new contracts in the past. Or a contract expiration Market reacting to that more than CME or CBOE."
Overall, the analysis attempted to present what could be one of the many million theories to predict bitcoin price action. In the end, the cryptocurrency remains an asset with one-too-many surprises under its sleeves.
Source: Read Full Article